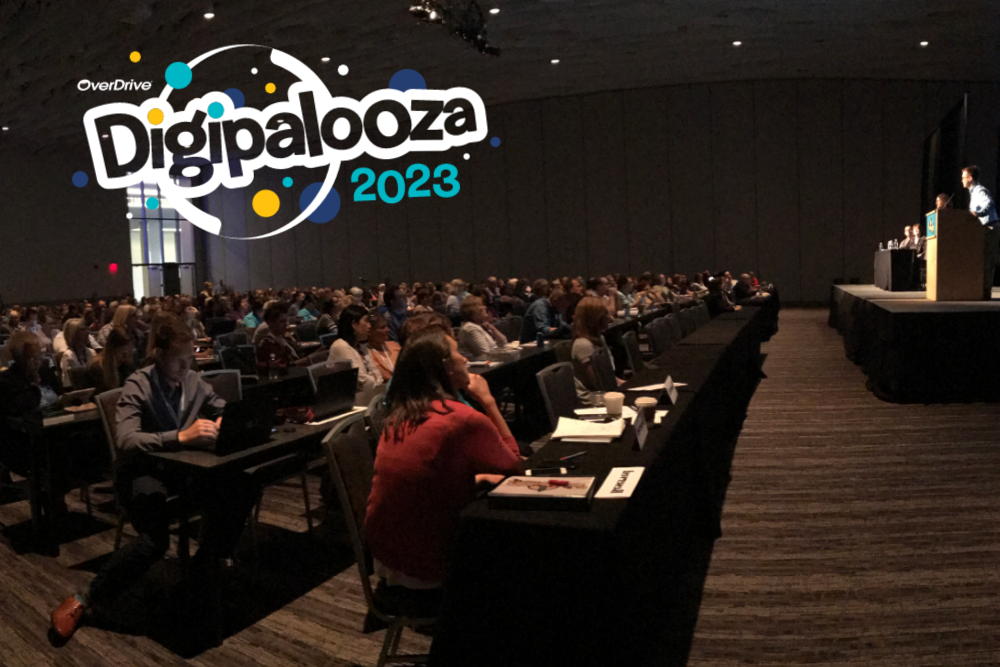 Digipalooza '23 is almost here! Meet our panelists and register today
With three months to go until Digipalooza '23, we are excited to introduce you to the panelists who will be presenting at our user conference August 9 – 11, 2023, here in our hometown of Cleveland, Ohio. 
The Digipalooza '23 program is full of educational panels, keynote speakers, information sessions, and networking sessions you won't find at any other library conference. Learn from library peers, hear from industry professionals, and take advantage of office hours to visit with your OverDrive account team during the conference. 
Register today and move forward with us at Digipalooza '23! 
Meet the panelists of these can't-miss sessions 
Access for All: Digital Reading Campaigns Designed to Reach Underserved Audiences
Solar benches powering Wi-Fi in city parks, QR codes on public transportation, and seamless classroom integration for students. Hear successful case studies of libraries bridging the digital divide by reaching underserved audiences in the most creative and effective ways. 

Speakers: 
Amber Seely, Division Director, Collections & Technical Services at Harris County Public Library 
Jennifer Lawson, Collection Development Manager at San Diego County Library 
Kacie Armstrong, Director at Euclid Public Library 
Kelvin Watson, Executive Director at Las Vegas-Clark County Library District 
Lisa Wells, Executive Director at Pioneer Library System 
---
Customize the Libby Experience Using Merchandizing and Discovery Tools
Librarians who use Libby customization tools to infuse their digital collections will share how these strategies captivate their readers. Benefit from lessons on best practices in curation and communication to drive your patron engagement.

Speakers:  
Catherine Royalty, Collection Services Manager at Los Angeles Public Library 
Kady Ferris, Electronic Content Librarian at Multnomah County Library 
Kaitlin Booth, Collection Development Specialist at Cuyahoga County Public Library 
---
KAPOW! Harness the Power of Comics and Graphic Novels to Supercharge Your Digital Catalog
Comics and graphic novels are outperforming other forms of fiction across all libraries – not just in checkouts, but in attracting and engaging new audiences. Hear from the experts on what's trending and how these materials can accelerate your digital collection's performance. Learn which ages and audiences are BOOMing for this content. 

Speakers: 
Valentino Zullo, Anisfield-Wolf Fellow in English and Public Humanities at Ursuline College 
Eden Julia Sugay, Publishing Sales Manager at VIZ media 
Frederick L. Jones, Publisher at Saturday AM 
---
Proven Tools and Strategies to Maximize the Diversity of Your Collection
Librarians have played a significant role in addressing underserved readers in their communities by making their digital libraries inclusive and relevant for all patrons. Hear case studies on the use of collection development analytics and data to evaluate the gaps in your Diversity, Equity and Inclusion initiatives. 

Speakers: 
Alicia Gunther, Member Services Librarian at Monroe County Library System 
Nick Glass, Founder & Head, TeachingBooks 
Hilary Lewis, Coordinator, eResources at Carnegie Library of Pittsburgh 
---
Register for Digipalooza 2023 today 
Don't miss your opportunity to join hundreds of librarians in Cleveland, Ohio for our user conference August 9-11, 2023. Register for Digipalooza '23 today!    
Tags In
Browse blog and media articles