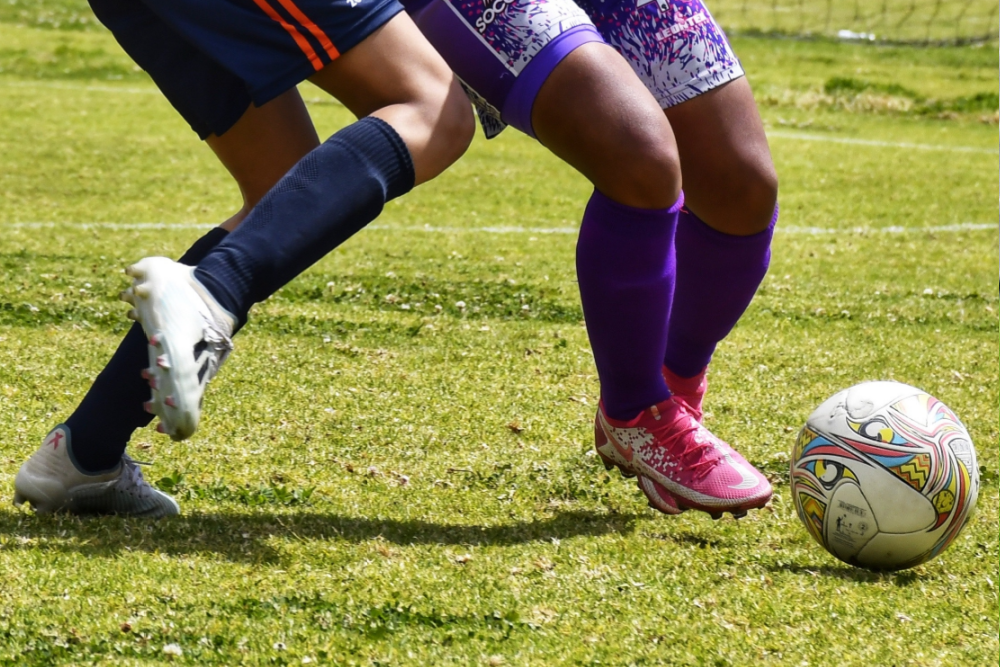 Soccer books that will make you yell Goaaaaaal!
By Erin Kane, Digital Content Librarian
It's the 9th FIFA Women's World Cup so it's time to support our beloved US Women's National Team! But all the games are being broadcast 12-15 hours ahead of North American timezones. What's a fan to do during their waking hours when there's no game on? Read all about it of course!
While this may at first appear to be a narrow topic, there is something for every kind of reader you can think of. Do you have patrons that love biography and autobiography? Are any of your young patrons also members of the local girls' soccer teams? Do you have patrons that love documentaries and history? Do you have patrons that love a good scandal? Do you have patrons that love to learn about current issues? Then here is your definitive Women's World Cup reading list!
Superstar biographies of today's top players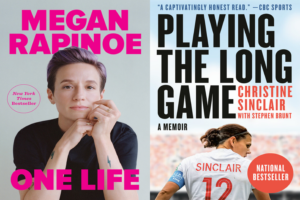 One Life by Megan Rapinoe
Playing the Long Game by Christine Sinclair
For the readers that want to know the story behind the players, have them check out these books written by the star players themselves! These two titles feature two of the most talented players in the game today. Megan Rapinoe was the star forward of the stunning 2019 USWNT team and Christine Sinclair is the star forward and captain of the Canadian national team. Both have appeared on the pitch at the 2023 World Cup in AU/NZ already. Readers will love getting to know the players they root for and how they got to the World's biggest soccer stage. See also: Carli Lloyd, Julie Ertz, Hope Solo, Abby Wambach, Mia Hamm, Alex Morgan, and Brianna Scurry
One Life: Purchase in Marketplace. Also available as an adapted young readers edition.
Playing the Long Game: Purchase in Marketplace.
---
Books for the whole family
Children's titles for your local soccer stars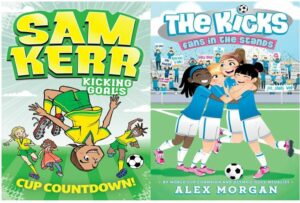 Cup Countdown! by Sam Kerr, Fiona Harris, and Aki Fukuoka
Fans in the Stands by Alex Morgan
In addition to being world-class athletes, Australian superstar Sam Kerr and US Powerhouse Alex Morgan also write children's fiction! Follow a young Sam Kerr, in Sam Kerr: Kicking Goals, as she learns the value of perseverance and navigates playing a new sport, family, bullies, and friendship.
In The Kicks, follow Devin as she moves across the country and joins the Kentville Kangaroos, a soccer team with a lackluster coach who doesn't care about winning or losing.
Purchase the Sam Kerr: Kicking Goals series in Marketplace.
Purchase The Kicks series in Marketplace.
Juv and YA Self-Improvement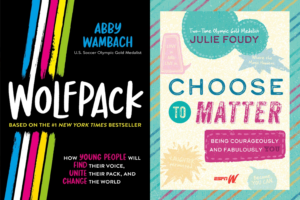 Wolfpack by Abby Wambach
Choose to Matter: Being Courageously and Fabulously You by Julie Foudy
The bestselling adult title Wolfpack by former USWNT forward and Hall of Famer Abby Wambach has been adapted into a Young Readers edition for middle grade readers.
From ESPNW, Choose to Matter is 99er Julie Foudy's YA Nonfiction title aimed at helping teens uncover their authentic selves. Both titles focus on developing leadership skills and making an impact on the world around you.
Buy Wolfpack in Marketplace.
Buy Choose to Matter in Marketplace.
---
For the soccer moms and dads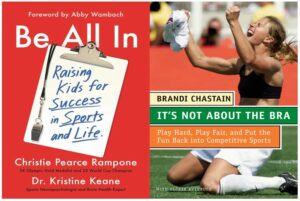 Be All In: Raising Kids for Success in Sports and Life by Christie Pearce Rampone, Dr. Kristine Keane, Abby Wambach
It's Not About the Bra: Play Hard, Play Fair, and Put the Fun Back into Competitive Sports by Brandi Chastain and Gloria Averbuch
In Be All In, Team USA Olympian Rampone and sports psychologist Keane argue for a 'Be All In' ethos in contradiction to the outdated 'No pain no gain' philosophy of the past. It also tells us why parents shouldn't coach from the sidelines and asks why we want our kids to play sports in the first place. Both Kirkus and Booklist consider this book essential for any parent or coach involved in youth sports.
In It's Not About the Bra, 99er Brandi Chastain considers how fun has been taken out of youth sports and replaced with bad attitudes and win-at-all-cost measures. She encourages players to adopt a community–based attitude and consider how to give back to one's team. Both titles detail how to support kids in sports, leadership development, and how being your authentic self contributes to the success of the game.
Purchase Be All In in Marketplace.
Purchase It's Not About the Bra in Marketplace.
---
Now and Then – for the history buffs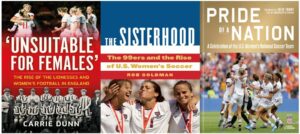 The Sisterhood: The 99ers and the Rise of U.S. Women's Soccer by Rob Goldman
Unsuitable for Females: The Rise of the Lionesses and Women's Football in England by Carrie Dunn
Pride of a Nation: A Celebration of the U.S. Women's National Soccer Team by Gwendolyn Oxenham, Julie Foudi, David Hirshey, et al.
Did you know that women and girls were banned from playing soccer in the UK in 1921 and that the ban wasn't lifted until the 1970s? It's true! In Unsuitable for Females, author Carrie Dunn covers what the unsanctioned game looked like when it had to be organized underground.
The Sisterhood by Rob Goldman looks at the iconic US 99ers, the women's team that changed sport forever and how groundbreaking their success was. The 99ers walked so the 2019 USWNT team could run.
An official history of the USWNT can be found in Oxenham's book Pride of a Nation. It details all four world cup and all four olympic gold medal titles, includes official U.S. Soccer archive photos, award winning reporting, trivia, and stats. See also The National Team and A Woman's Game.
Unsuitable: Purchase in Marketplace.
The Sisterhood: Purchase in Marketplace.
Buy Pride of a Nation in Marketplace.
---
The Dark Side of Soccer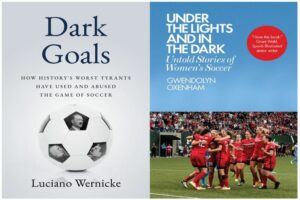 Dark Goals: How History's Worst Tyrants Have Used and Abused the Game of Soccer by Luciano Wernicke
Under the Lights and In the Dark: Untold Stories of Women's Soccer by Gwendolyn Oxenham
For the reader who's always interested in reading about scandals, true crime, and corruption check out these two titles about the darker side of soccer. Dark Goals takes a historic look at how those in power, from despots to drug lords have used the world's most popular sport to their advantage.
Under the Lights and In the Dark features the unique struggles and obstacles that women athletes face; from low pay and homelessness to homophobia and motherhood.
For even more crime and corruption: you can also check out: The Fall of the House of FIFA: The Multimillion-Dollar Corruption at the Heart of Global Soccer and Red Card: How the U.S. Blew the Whistle on the World's Biggest Sports Scandal.
Purchase Dark Goals in Marketplace.
Purchase Under the Lights and In the Dark in Marketplace.
---
For the reader that wants to be up on the latest issues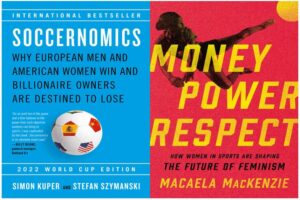 Soccernomics: Why European Men and American Women Win and Billionaire Owners Are Destined to Lose by Simon Kuper, Stefan Szymanski
Money, Power, Respect: How Women in Sports Are Shaping the Future of Feminism by Macaela MacKenzie
In Soccernomics, Szymanski and Kuper's follow-up to Money and Soccer, the authors added all new material including a chapter on the case of reparations for women's soccer.
Money, Power, Respect is a mind-blowing look at the comparison of these three topics in men's and women's sports. Topics include the motherhood penalty, transphobia and misogynoir, underpromotion, low pay, and overall lack of structural investment in women's professional sports.
 Purchase Soccernomics in Marketplace.
Purchase Money, Power, Respect in Marketplace.
Run to Marketplace to find more books celebrating the World Cup
Find all these titles and more in our FIFA World Cup (Men and Women's) shopping list.
Tags In
Browse blog and media articles