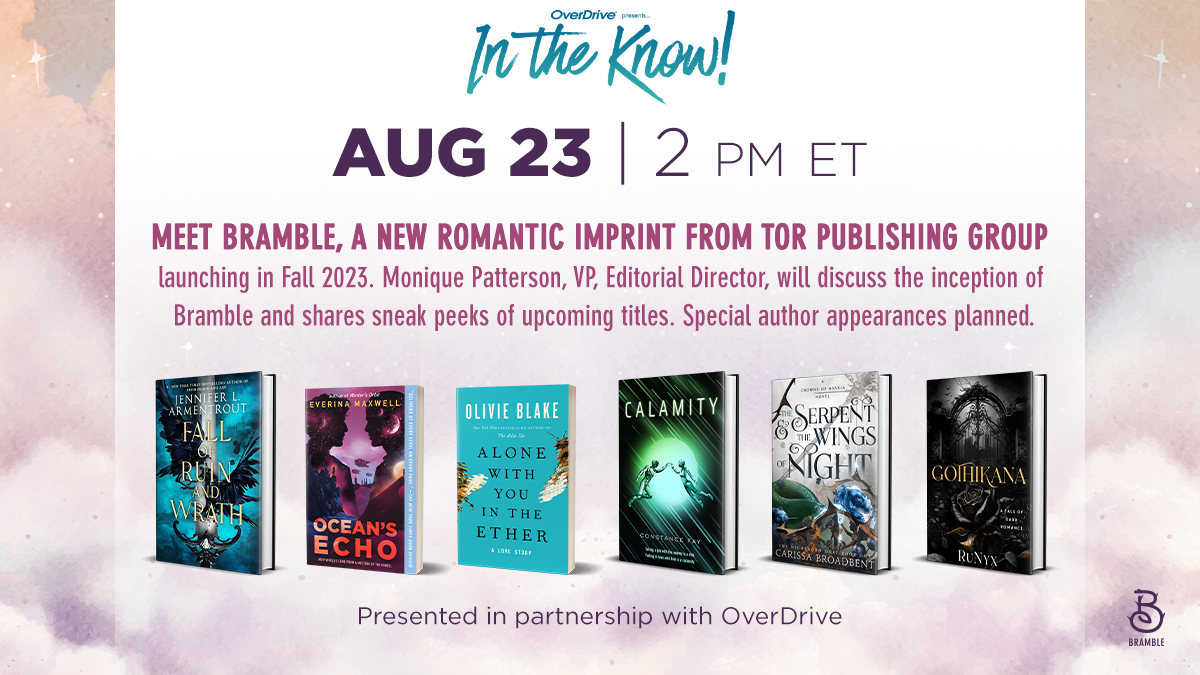 Love is in the air – Learn more about new Tor Publishing Group imprint, Bramble
Everyone deserves a good love story. Look no further than Tor Publishing Group's new romantic imprint, Bramble! Join us on Wednesday, August 23 at 2pm ET to learn more about Bramble and get a sneak peek at upcoming titles from their catalog releasing this fall. Register now!
From sci-fi and fantasy to contemporary and every type of dreamy read in between, Bramble is an imprint dedicated to providing a wide range of romantic stories for the modern reader. Tune into this exclusive virtual event to hear from Monique Patterson, Tor Publishing Group's Vice President and Editorial Director, as she shares more about the inception of Bramble and provides a closer look at upcoming titles including Fall of Ruin and Wrath by Jennifer L. Armentrout and Alone with You in the Ether by Olivie Blake.
Library partners who are eager to browse and shop titles available and coming soon from the Bramble imprint can shop the featured title list in OverDrive's Marketplace.
This is a unique opportunity to hear directly from Tor Publishing Group staff and authors and gain insight into the creation of a new imprint at a major publishing company. You won't want to miss this opportunity to be in the know. Register today!
To view recordings from previous In the Know presentations and to stay up to date on upcoming presentations, be sure to check out the dedicated news alert in Marketplace.
Tags In
Browse blog and media articles