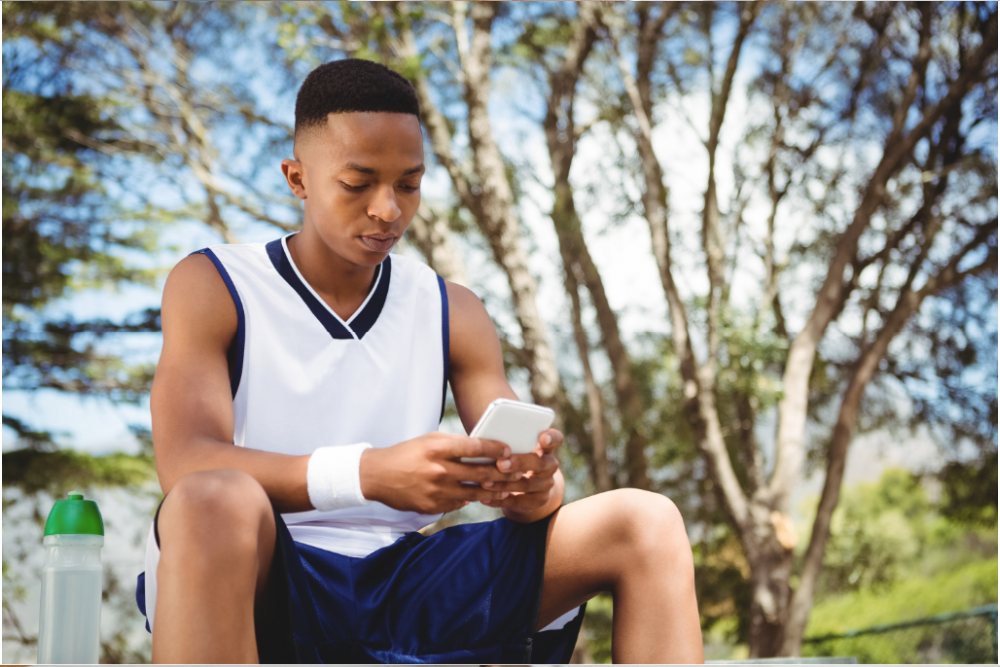 What's On My Teen's Screen: Teen-Approved Libby, Kanopy and a Libby Extra Picks
By Tonya Briggs, Collection Development Manager
My son, Cameron, loved to read and write books until the third and fourth grade. Even though his teachers always told me how much they enjoyed discussing class reading assignments with him and he scored high on reading tests, Cameron was put in a class for children with reading problems, and it was difficult for me to get him out of those classes. It turned out he didn't have a reading problem. He had a focus problem that wasn't diagnosed until the eighth grade. By then, Cameron no longer talked to me about the books he read, stopped writing books about adventures with his friends, and no longer reached for a book to buy in every store.
To get Cameron back into reading and discussing books with me, I started bringing home books from the library where I worked. Much to my delight, he would tell me, "Mom, I read that already." I learned that he had been using his school's library and reading in study hall. And our book discussions resumed.
Cameron started high school last year, and the library is not as convenient for him to use. Since his phone is his constant companion, I've introduced him to Libby. With Libby, Cameron can conveniently listen to audiobooks on the school bus or in study hall.
Books you should know about
Miles Morales Suspended: A Spider-Man Novel by Jason Reynolds and Zeke Peña
Buy the ebook here
Buy the audiobook here
Cameron loves Marvel movies, history and books written in verse. Unfortunately, he is also familiar with experiencing racism in school like Miles Morales experiences in Miles Morales Suspended. I was not surprised when he picked this one up.
Miles Morales is a 16-year-old, biracial (Black and Puerto Rican), Brooklyn based Spider-Man. When he is not saving the world, Miles attends Brooklyn Visions Academy and is a typical teen. As a student, he advocates against a history teacher falsifying Black history in the classroom. As Spider-Man, Miles reforms a student library assistant erasing Black, brown and LGBTQIA+ books from the library.
Written in a traditional novel and verse format, this novel will appeal to reluctant readers, fans of Kwame Alexander's The Crossover as well as Miles Morales movie fans.
Outer Banks: Lights Out by Alyssa Sheinmel
Buy the ebook here
Buy the audiobook here
Yes, this novel is based on the popular Netflix series with the same name. Yes, Cameron is a fan of the show.
The novel's main characters, JJ and John B, decide to take a spring break fishing trip on John B's boat. A storm leaves them stranded on a deserted island with a lighthouse. JJ has a poor boy, rich girl romance with Savannah, a tourist who is stranded with them. This prequel to the TV series turns into a fight for survival when JJ, John B and Savannah realize they are not as alone on the island as they thought.
Fans of the TV show Outer Banks will enjoy these character-driven novels. A second book based on the Netflix series is scheduled to come out in November 2023. The protagonists in Outer Banks: Dead Break by Jay Coles will be Kiara and Pope who are mixed race and African American respectively.
Last On His Feet: Jack Johnson and the Battle of the Century by Youssef Daoudi and Adrian Matejka
Buy the ebook here
Since this graphic novel is about a historical figure, heavyweight champion Jack Johnson, I understood Cameron's interest in it immediately.  He enjoys learning about historical events and people.
Illustrated in black, white and red, the story explains how Johnson became the unique individual and boxing champion he was during his "Fight of the Century" against Jim Jeffries in 1910. Interspersed between the 15 rounds of the Jeffries fight, Johnson constant battles with racism and determination to live his life on his own terms is illustrated.
At the end of an imagined battle of words about "The Future of the Negro Race" between W. E. B. Dubois and Booker T. Washington in a boxing ring, Johnson's statement that "All I know is being an original is a lonely business" seems to sum up his life experiences. The inclusion of how Johnson's childhood white friends contributed to his belief of racial equality might have helped explain his anger, persistence and resilience. This graphic novel will interest history and boxing fans.
The Maze Cutter by James Dashner
Buy the ebook here
Buy the audiobook here
The Maze Cutter is to James Dashner's The Maze Runner book series what Hobbs & Shaw is to the Fast & Furious movie series – a spin-off! Cameron likes the Maze Runner movie series and science fiction.
The protagonists in the Maze Runner books need to overcome obstacles to get out of where they are: a maze, an environmentally-burned landscape and a controlled environment. The complexity of Dashner's world expands and the descendants of the Maze Runner series are the protagonists and more diverse in The Maze Cutter. This novel takes place 73 years later and is told in multiple points of view. Two of the narrators are traveling to Los Angeles so one's DNA can be used to cure a disease. Three narrators are in Alaska and form a battle for supremacy called the Godhead and another is on his way to Alaska to find the Godhead.
Readers looking for a story written in the same style as the Maze Runner series may be disappointed in this novel. This novel is written with multiple perspectives and takes a while to come together coherently. Those who enjoyed immersing themselves in Dashner's world and are curious about what happened to the characters will not.
Dragon Hoops by Gene Luen Yang
Buy the ebook here
The cover of Dragon Hoops looks like a basketball making it obvious to me why it would be of interest to Cameron.
Yang's graphic novel tells the story of Bishop O'Dowd High School's 2014-15 men's basketball season and pursuit to win the California State Championship. After 5 trips – and 5 losses – to the state championships since Bishop O'Dowd alumnus Coach Lou Richie returned, the students and team are optimistic about their chances. A conversation with head coach Ritchie convinces Yang to write their story.
Yang begins each chapter that is not focused on a game with history about basketball or a team member. For example, a chapter about siblings who played basketball for Bishop O'Dowd starts with a brief history of women's basketball. The high school's women's basketball team won 2 of the 3 state championships they played in.
Yang's decision making as a writer is intertwined with Coach Lou's explanations about strategic moves such as who plays and for how long. Readers who enjoy watching and playing basketball and those interested in learning more about the game will enjoy Yang's book. The humorous touches and captivating basketball game scenes make the over 400 pages of this graphic novel a quick and engaging read.
The 57 Bus: A True Story of Two Teenagers and the Crime That Changed Their Lives by Dashka Slater
Buy the ebook here
Buy the audiobook here
The 57 Bus is written by New York Time Magazine author Dashka Slater, about an African American teen, Richard Thomas, who went to jail for setting the skirt of a white teen, Sasha Fleischman, on fire on an Oakland, California bus. Cameron is drawn to books about the African American male experience.
The book begins with a summary of the incident. Part 1 tells Sasha's story. Sasha is agender, white, and a senior at a private high school. In Part 2, 16-year-old public high school student Richard's life in a violent neighborhood and experience with the juvenile justice system is conveyed. Parts 3 and 4 of the book explain what happened in the lives of both teens after the incident on bus 57.
Slater has personal connections to the two main characters: she has friends in common with the Fleischmans and her son and Thomas once attended the same high school. But she writes the stories of Thomas and Fleischman in a relatable way and enlightens readers about how a teen's thoughtless actions and ingrained judicial racism led to severe repercussions. Readers interested in learning more about this news event and more about the teens involved in it will benefit from reading this true story.
---
Must-watch films
Of Mind and Music, 2016

Watch on Kanopy here.
Renowned Neuroscientist Dr. Alvaro Cruz returns home from a lecture in Paris and in his absence his mother has succumbed to Alzheimer's disease. As he decides to take some time off work and reconnect with the love of music he shared with his mother, finding solace in New Orleans' French Quarter, he hears the mesmerizing voice of Una Vida. After repeat visits to hear her sing, he realizes that she is suffering from Alzheimer's and that her unconventional "family," including fellow musician, cannot cope with her declining health.
Cruz puzzles his wife, Angela, by seeking out Una Vida's long lost son in hopes of finally giving her resolution to the grief, loss and longing that has overshadowed her difficult but also beautiful life. My grandmother had Alzheimer's disease and, because I was her caretaker, Cameron spent a lot of time with her. One day, she didn't remember him when we visited her and it was difficult for him understand why. Watching this movie with him assured him that he was not alone in his frustration with the disease.
White Scripts and Black Supermen: Black Masculinities in Comic Books, 2012

Watch on Kanopy here.
Twenty years ago, Marlon Riggs produced an essential documentary critique of the images of African Americans in US television in his award-winning Color Adjustment. Now comes a documentary on representations of Black masculinity in comic books; a popular culture genre which existed before television and whose reach extends into other areas of cultural production such as movies and animated TV series. In a serious, lively and humorous manner, White Scripts and Black Supermen: Black Masculinities in Comic Books analyzes the subject for the first time and looks at it over a 40 year period.
On our first Free Comic Book Day, Cameron introduced me to Luke Cage. Luke Cage is one of the first Black Marvel superheroes. Luke Cage is one of the comic book characters focused on in Riggs' documentary.
Unforgivable Blackness: The Rise and Fall of Jack Johnson, 2004

Watch on Kanopy here.
The film follows Jack Johnson's remarkable journey from his humble beginnings in Galveston, Texas, as the son of former slaves, into the brutal world of professional boxing, where, in turn-of-the century Jim Crow America, the heavyweight champion was an exclusively "white title." Despite the odds, Johnson was able to batter his way up through the professional ranks, and in 1908 he became the first African American to earn the title Heavyweight Champion of the World.
This documentary provides more historical context about Jack Johnson and the story told in Last On His Feet: Jack Johnson and the Battle of the Century.
---
A little Extra something
Kendrick Lamar: Live in London 2013 on Qello Concerts
Filmed at Roundhouse, London, this concert film will give all fans a spectacular Live experience from start to finish. Kendrick Lamar performs his hits including "Cartoons & Cereal", "Backseat Freestyle", "Only You" and many more.
Kendrick Lamar is one of the artists Cameron and I listen to together. We discuss each release including our thoughts about lyrics, beats and relatability.
Visit the Resource Center to learn more about how you can entertain and educate patrons with Qell0 and all Libby Extras.
Tags In
Browse blog and media articles