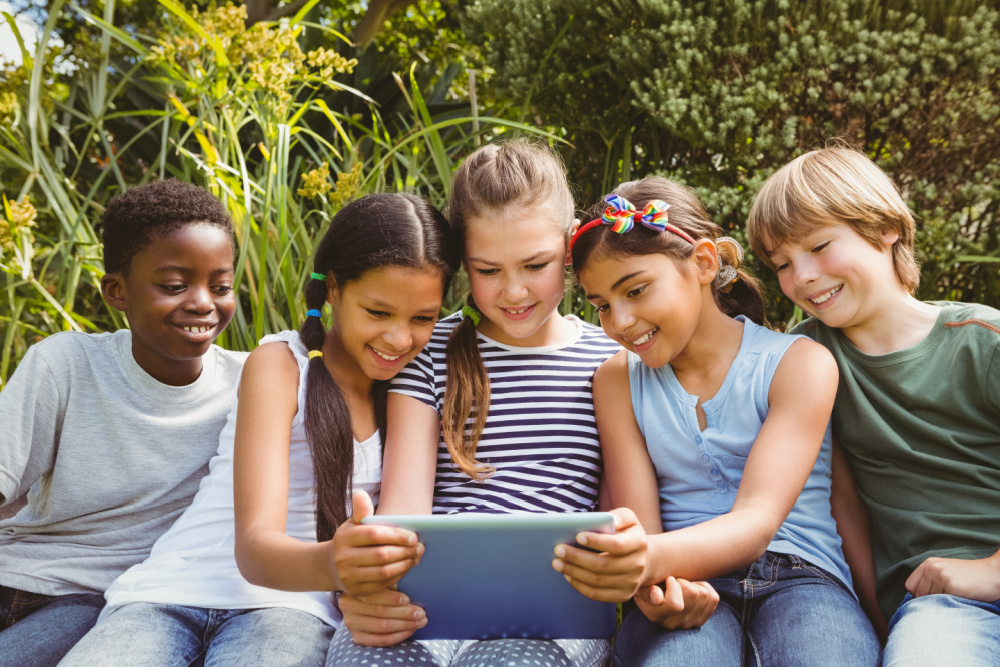 8 ways to share the back to school season all year long
I recently read somewhere (okay, it was on the site formally known as Twitter) that one reason those of us who were high achievers or labeled as "gifted" get existential around this time of year is because when we were younger, our whole lives revolved around school and now as adults our bodies don't know what to do without it.  
If I'm being honest, I don't appreciate being called out so hard by a stranger on social media. 
Luckily, that feeling of going back to school never has to end thanks to the public library. (Wait. Is that why I became a librarian? This explains so much.) While students may rely on their school library during the school day, chances are they – and their families – are turning to the public library the rest of the time. Read on for ways you can share the back to school season all year long.  
1. Promote your digital library in grab & go kits
Between after school commitments and family time on the weekends, kids are busy during the school year. To allow flexibility, many libraries opt for "take and make" programming such as a kit with items to make a themed craft at home when they have time. This is a perfect opportunity to promote the titles in your digital collection that fit the same theme. Slip in a bookmark with a URL or QR code to a curated collection of titles. Visit the Resource Center to find free, printable outreach materials to use in your kits!  
2. Save big in our Back to School Sale
Between now and September 30, you can save up to 50 percent on thousands of juvenile and YA ebooks and audiobooks in our annual Back to School sale. Now is the time to start stocking up on titles for the kids and teens in your community. 
3. Host a nonfiction book club for teens
I didn't learn to appreciate nonfiction until I was an adult. Growing up, nonfiction books reminded me too much of homework. A teen nonfiction book club is a great way for libraries to introduce teens to nonfiction in a comfortable environment where they can ask and answer questions without worrying about being graded. According to data from Wordsrated, young adult books have been the fastest-growing category over the last 5 years. YA Nonfiction sales grew 62.7 percent since 2018 and 4.11 million young adult nonfiction books were sold in 2022. Shop the History collection in our Back to School sale today to find young adult nonfiction titles for your digital library. 
Bonus idea: Choose nonfiction books on topics that have had novels written about them, whether historical fiction on a world event or fictionalized stories of a real person's life. Reading the nonfiction then the novel is sure to generate lots of conversation about how the novel presented the story!  
4. Host STEM programs
In addition to library book clubs being a way to make nonfiction less daunting for teens, libraries can also make STEM (Science, Technology, Engineering, Math) less overwhelming through programs as well.  
Understanding the basics of STEM is important for students' futures, as the U.S. Bureau of Labor Statistics projects employment of mathematicians and statisticians is projected to grow 30 percent over the next 10 years, much faster than the average for all occupations. But, according to Public School Review, recent figures show that only 29 percent of high school graduates tested ready for higher education in science, and just 43 percent are considered prepared for college-level math courses.  
Public libraries can supplement K-12 STEM education through library programming. From coding classes to makerspaces to creating old-school volcanos erupt with baking soda and vinegar, the range of STEM program ideas is endless. 
Looking to add more STEM titles to your digital collection? Our Back to School sale is here to help! 
5. Support student success with Method Learning
Method Learning's number one priority is to guide students on their academic journey in order to raise their test scores and implement fundamental systems for lifelong learning. Add these Libby Extras to your digital library today to support student success in your community. 
Method Learning – Test prep

provides users with comprehensive self-paced lessons and resources that help students prepare for, and score higher on, the SAT and ACT.

 

Method Learning – Financial Literacy

lays the foundation for students to build strong money management habits early on.

 

Method Learning – Academic Success

is designed for students who need some help with organizing, planning and executing their academic and extracurricular lives.

 
Visit Libby Extras under the Shop tab in Marketplace to add these services to your collection. Or sign up for your free Libby Extras demo access. To learn more about how libraries are educating, entertaining and engaging their communities with Libby Extras, visit the Resource Center.   
6. Feature under-the-radar titles from our Back to School sale
You don't need me to tell you what books from the Back to School sale are super popular with kids and teens these days – you have probably used the sale as a chance to fill holds on those same titles.  
To help you make the most of the sale and discover some hidden gems, we've created an In Case You Missed It list of titles, available here. Full of fiction and nonfiction books for readers of all ages, this list features perpetually popular, recent releases, and fan favorites to keep readers engaged and entertained while they wait for those other popular books at your digital library.  
7. Host movie nights with Kanopy
I was in marching band in high school, which meant my Friday nights in the fall were swallowed up by football games. If I'm being honest, especially during those cold and rainy games, I would have much preferred to be at home with a movie I rented from Blockbuster. 
With Kanopy you can save patrons from pricey streaming subscription or rental fees by giving them the best in thoughtful entertainment right from their couch.  
Thanks to Kanopy's collection of films that come with Public Performance Rights you can even host movie nights at your library — including films from PLUS packs!  
Now, as part of our Back to School Sale, when you buy 2 or more Kanopy PLUS packs, you'll get 25% off the total. With pre-curated, themed PLUS Packs, you can unlock the library world's best videos sure to delight every patron. Pay up front annually, and we handle the rest!  
To view a list of PLUS titles that support Public Performance Rights, contact your account representative or fill out the get started form. 
8. Support the science of reading with Supersonic Phonics and Decodables
In his Crystal Ball report at Digipalooza '23, OverDrive founder and CEO Steve Potash shared that OverDrive is prioritizing opportunities for librarians to use their library science degree and passion for books to further the science of reading and address literacy concerns in their communities. 
You can start building key literacy skills in your community today with the new Supersonic Phonics & Decodables Simultaneous Use Package. Available exclusively from OverDrive, this Simultaneous Use plan is one package containing the complete fiction and nonfiction phonics and decodables program from Jump! and Bearport Publishing. With over 200 titles supporting literacy growth for PreK through Grade 4, these books will be always available to young readers through August 31, 2024.    
Visit Marketplace to add the complete Supersonic Phonics and Decodables simultaneous use package to your digital library today. 
Browse blog and media articles