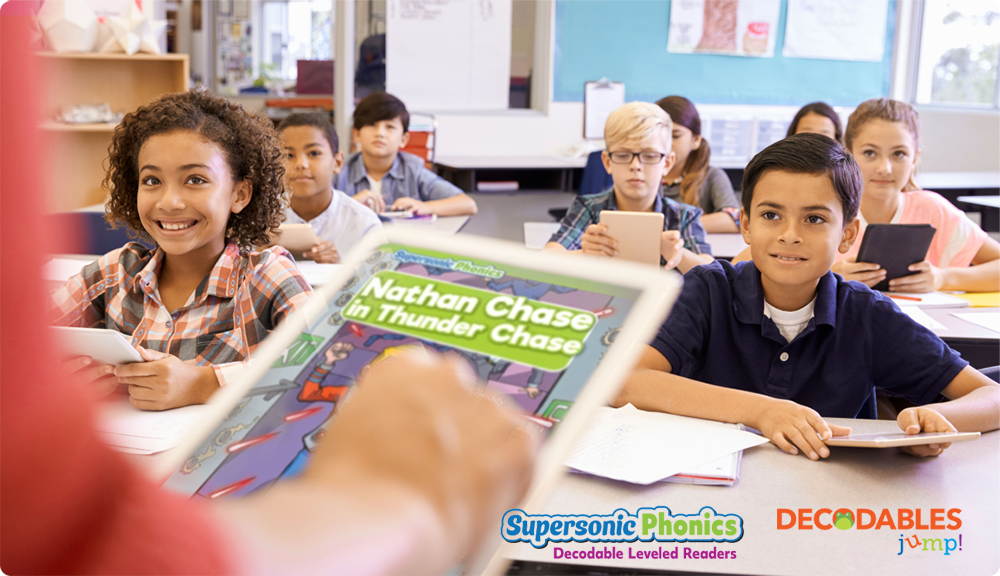 Supersonic Phonics & Decodables: 200+ always available ebooks to simplify teaching phonics
The science of reading is very much a hot topic this school year, as schools across the U.S. adopt more evidence-based strategies to spark a turnaround in reading proficiency among students. Teaching phonics is a key cornerstone of this approach, with research showing that 60% of children benefit from systemic phonics instruction, especially in grades K-2.
Phonics instruction is also a helpful strategy to help students with dyslexia establish a reading foundation.
As a result, making sure you have the materials you need to set your students – and yourself, if the renewed focus on phonics has necessitated changing your instructional approach – up for success is an important step before it gets too late into the school year.
(Easier said than done, right? Well – not necessarily!)
Streamline teaching phonics with Supersonic Phonics & Decodables in Sora
This school year, it's now easier – and more affordable! – for you to get instant access to always-available phonics ebooks in the Sora app with the Supersonic Phonics & Decodables package.
For one price, you can get two complete phonics and decodables programs from Bearport Publishing and Decodables by Jump!. This includes 200+ fiction and nonfiction books at different levels to meet all of your aspiring readers' needs. Once you've added the package, they're all super easy for your students to start reading right away, with just a tap or click, through the app or via browser.
Plus, both programs are aligned to the same 12-level, color-coded phonics program.

Titles in the package will only be available for lending through Aug. 31, 2024 – so don't delay! Make sure you get them ASAP so that you have them for the whole school year and through the summer.
Order Supersonic Phonics & Decodables in OverDrive Marketplace
Users with a Marketplace account and Purchase permissions can get the Supersonic Phonics & Decodables package right away by ordering it directly in Marketplace.
Get help adding the phonics package
Need a little more help? Check out the Supersonic Phonics & Decodables page, where you can inquire with our team (and sample some of the titles within the package!).
Browse blog and media articles