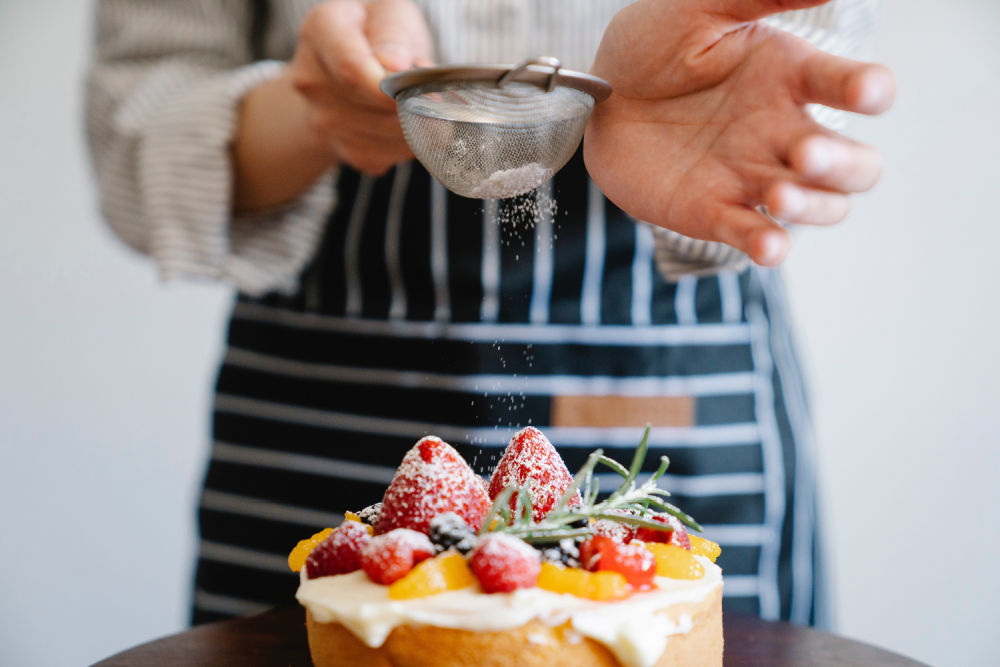 Just in thyme! 5 culinary programming ideas for your library in 2024
The Great British Baking Show is back which means a new season of stunning showstoppers, tricky technicals, and the elusive Paul Hollywood handshake as amateur bakers compete in the big white tent. 
It also means another season of me watching each episode and immediately wanting to break out the flour, sugar, and KitchenAid Mixer and do some baking of my own. I didn't really start baking until I was an adult, but when I was a page at my public library I loved shelving books in 641.5 and thumbing through all the cookbooks 
These days, more and more libraries are building (baking?) cooking classes into their schedule. As you plan for 2024, consider adding a dash of the kitchen to your own programming guide for the year (I'm done with the food puns, I promise). 
Library culinary programming ideas
Spice things up with a Spice Club
This is a take-and-make program hosted by my own local public library that I absolutely adore. Every month, a local spice is featured in a kit that includes a small sample of the spice, a program guide with a history of the spice, and four spice-forward recipes. I look forward to picking up my kit every month and often plan grocery trips around trying at least one of the recipes. (And I still make last year's tarragon and cranberry chicken salad on a regular basis.) 
Get kids involved
Shortly after moving into our house, we invited my nephew over to decorate sugar cookies. I baked and frosted the cookies, then provided an assortment of candies for him to decorate any way he wanted. To be fair, I think most of the candy ended up in his mouth rather than on the cookies (sorry, sis) but it was still a fun activity for all of us and something that could be replicated in a library as part of a kids cooking club regardless of time of year, season, or holiday. For teens, you can introduce advanced cookie decorating techniques such as piping and working with royal icing. Bonus: there are cookies to take home!  
Host a foodie book club
While most book discussion groups are focused on fiction, cookbooks make a unique (and yummy!) alternative. From exploring different cuisines to celebrity chef memoirs and food-based microhistories, the possibilities are endless.  
At St. Johns County Public Library System (FL), the Books & Bites library program combines a love of food and a love of literature while the Milton Public Library (MA) Cookbook Club is a potluck event where participates cook one dish from the same cookbook and bring it for other participants to sample!
Cooking demonstrations with local chefs
Here in Cleveland we are a little spoiled because we have several restaurants from Iron Chef Michael Symon in our backyard. Even if you don't have celebrity chefs nearby, you likely have chefs in your community who would be happy to participate in a cooking demonstration at the public library. And don't think you have to pull from the fanciest restaurant in town: the best lobster bisque I have ever had (and trust me, I have had my fair share) came from the chef owner behind local sandwich chain Mr. Hero as part of a cooking demonstration he did for a fundraiser.  
Back to cooking basics for beginners
These days I love to cook and bake and I'm pretty good at both. But there was absolutely a time in my life when I didn't understand the difference between 5 garlic cloves and 5 garlic heads and, look, I love garlic but that particular meal was a fail.  
In an effort to better educate the members of their community in the basics of cooking and nutrition, many libraries have created culinary literacy centers. Classes can be designed for the littlest chef to newly-minted grads who will soon be living on their own to adults who want to work on their cooking skills or learn advanced techniques.  
The Public Library of Youngstown & Mahoning County hosts classes on nutrition, food prep, seasonal produce, hands-on cooking classes, and more. At Lorain Public Library (OH), the culinary literacy center has been so successful the demonstration kitchen was included in a branch renovation and expansion.
Looking for more cookbooks?
Looking to beef up your cookbook collection before the end of the year? (Sorry, had to slip just one more food pun in there.) Check out this blog post for some favorite cookbooks for the holidays, delicious films on Kanopy, and Libby Extras to help your patrons have a happy holiday season.
Browse blog and media articles