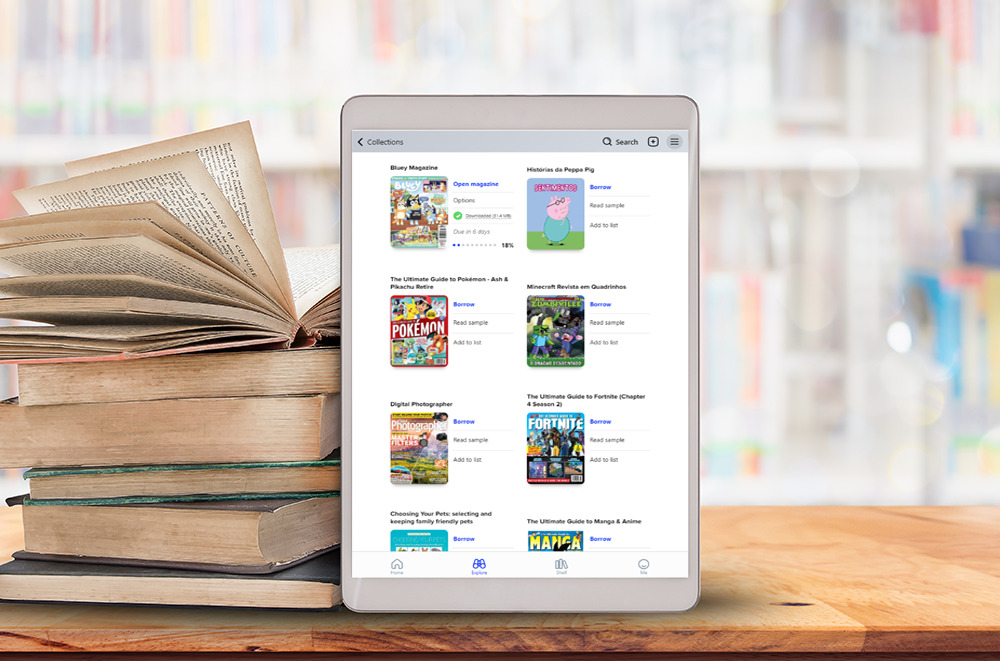 5 must-know dos and don'ts of digital magazines
Your first magazine subscription is almost like a rite of passage. When I was growing up, my mom and I used to share issues of Reader's Digest – but the rule was, with few exceptions, that she got to read it first.
So as a preteen, there was something exciting about the prospect of something in the mail just for me, glossy and colorful amidst the bills and junk letters. Something that I'd always be the first one to read. (Most of the time. Moms can be sneaky!)
In that era, I was too busy devouring Q&As with my favorite members of *NSYNC and brushing up on the latest Y2K fashions to imagine that one day, the fragile little paper booklets that I so looked forward to receiving would be available simply by opening an app on a tiny little hand computer (I DEFINITELY couldn't have imagined a smartphone in 2001).
But times change, and so does technology. A lot, as it turns out. I still look forward to getting magazines in the mail on occasion, but I like reading them on my tablet, too.
And for your students, digital is probably all they've ever really known. But even so, monthly subscriptions cost money, and what one student might have access to isn't always the same as what another can afford.
Which is where the Sora app can come in. Your school's digital collection is an awesome option when it comes to giving kids a way to read at home – but did you realize that it extends beyond ebooks and audiobooks? You can add magazines, too, and give students across your school community the same ability to read. It doesn't matter where they are – on the bus, at school, or hanging out at home – or if they're reading on an smartphone, laptop, desktop or tablet.
As a once-and-current magazine enthusiast myself, I think our digital magazines package is one of the coolest things you can offer to students, especially if you're having a hard time helping them get interested in reading. They're pretty handy for your classroom, too. Magazines are a great way to expose students to different kinds of content, familiarize them with basic story elements and help them build reading stamina.
So where do you get started? You're in luck – here are some basic do's and don'ts you definitely want to know when it comes to digital magazines.
DO add digital magazines to your collection (if you haven't already).
If you don't have digital magazines yet, what are you waiting for? They're really affordable – no matter which package you choose, or the size of your school, you'll only ever pay one annual price. And there are 200+ titles to choose from, including new editions added regularly. All you have to do is fill out a brief form.
Are your students Minecraft enthusiasts? There's a magazine (actually several magazines) for that. Aspiring Pokémon trainers? There are a few for them, too.
Remember paging through issues of J-14 in the checkout aisle? It's still here for a new generation of boy band enthusiasts, though they won't be able to cut them up for the bonus posters.
There are also important titles you'll want to keep in mind for classroom instruction, like Highlights, National Geographic, New Scientist, The Week (and The Week Jr.) and more.
Plus, every magazine is simultaneous-use, meaning your kids don't need to fight over issues. They can all read them at the same time.
It's basically a no-brainer.
DON'T try to use them for collages in art class.
This also seems like a no-brainer, but just in case.
DO incorporate digital magazines into your curriculum.
Remember how I just talked about some of the classroom-ready titles in the digital magazines package? Forget wrangling well-loved back issues that are barely hanging on by a thread, or worrying about scrounging up enough copies for every student (or making them share).
That's not an issue with digital magazines. They can't get lost or destroyed, because they're right on whichever device you and your students are using, making them ideal as a complement to your lesson plans.
(And if you're looking for some ideas for how to use them, you'll definitely want to register for our Quick Tips magazines webinar on Nov. 9!)
DON'T forget to promote them
Maybe you're already aware that you can feature collections on your Sora Explore page for easy discoverability. Why not do the same with magazines? Because they're always available, it's a great way to give students more options to browse and find something compelling to read while they wait their turn for any titles they have on hold.
Plus, the OverDrive Resource Center has free print and social graphics that can help you spread the word about magazines outside of Sora. Download them today!
DO learn more by registering for our magazines webinar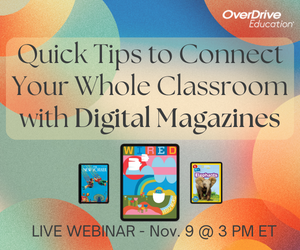 Get everything you need to know about magazines, straight from the experts! You'll hear all about the different titles in the package, get tips for classroom use that you can start implementing right away, and take a deeper dive into the best ways to promote magazines to your students. Plus, you'll hear from educators just like you who're already using them.
So don't hesitate – register for Quick tips to connect your whole classroom with digital magazines today. The live event is on Thursday, Nov. 9 at 3:00p.m. EST, but if you can't make it then, don't worry – an on-demand version will be made available following the broadcast. (But we'd love for you to make it live, because it gives you the best opportunity to Q&A with presenters!)

Browse blog and media articles