Hot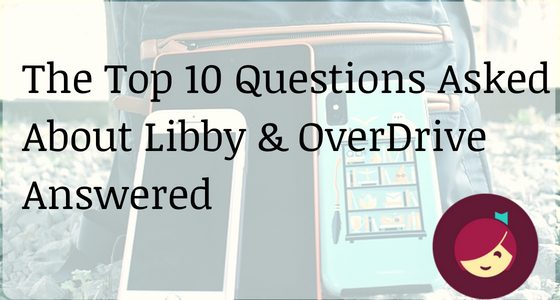 The top 10 Libby and OverDrive questions answered
With all of the exciting updates to Libby and your OverDrive service as well as the constant stream of new books being added to your digital library, it's understandable that your users may have some questions. Can I download the files? What about Kindle? Or even the standard, but often asked, "How do I get started?" To answer these and any other OverDrive-related questions we've created two handy websites that you and your patrons can access any time you need. OverDrive Help is your one stop shop for articles, videos and how to guides for your OverDrive service. If you have a more specific, Libby related question, there's Libby Help to take a deep dive into all the tips and tricks of our award winning one-tap app.
Both of these websites provide the answers readers are looking for whether they're first time eBook readers or they've been borrowing digital books for years. Some questions may be asked more than others so to help lend a hand, below are links to the most popular articles on both sites below.
Frequently Asked Libby Help questions
How do I send books to Kindle & How do I make Kindle my preferred way to read
Given that OverDrive is the only digital book company working with libraries to have Kindle compatibility, it makes sense your users will want to make sure they understand how it works. These are perfect articles to have readily available for sharing.
What's the difference between Libby and the OverDrive app
This question may come up for current OverDrive app users. We suggest all users try Libby as their digital reading app and in the event your users are looking for the difference between the two, this article is the perfect answer.
Downloading or deleting titles
When you borrow a book on Libby one of the main benefits is the instant availability of the title, thanks to the ability to stream it through OverDrive Read. If a user asks how they can actually download the files, you can provide them this article. Here you'll also find information on how to delete titles.
This is a great article to send to patrons that are worried about data usage. They can quickly pop into their settings in Libby so it only downloads titles when connected to WiFi, providing peace of mind.
Top OverDrive Help articles
What updates have been made to my library's digital collection recently?
Our developers are constantly innovating the digital reading experience for your patrons. This article is great to have on hand to keep everyone up to speed with what's new.
Getting started with OverDrive
Thousands of people are still discovering that their library offers eBooks and audiobooks for free, so this is still a highly sought out article. Keep it handy for those first time users.
How to enable cookies on your mobile device
OverDrive websites require the use of cookies for better performance and functionality. By default, browsers on mobile devices are set up to accept cookies, so you shouldn't have to manual adjust anything. However, if you get an error telling you to enable cookies while browsing an OverDrive site on your mobile device, follow these steps below.
Getting started with Kindle Books from your library
As we mentioned above, users love reading on their Kindle, so be sure to take advantage of OverDrive's exclusive compatibility in your promotions and conversations with patrons.
How do I get started using Libby?
And we've come full circle! This getting started guide is perfect for both current and new users looking to try out Libby. They're sure to love the one-tap reading experience.
Videos
For all of your users who happen to be visual learners be sure to point them in the direction of both our Libby intro video and all of our OverDrive Help videos as well.
No matter what type of question a patron may have, these tools are sure to provide the right answers to get them back to creating reading happiness in your digital library.
Tags In
Browse blog and media articles
Public Library Training
K-12 Library Training