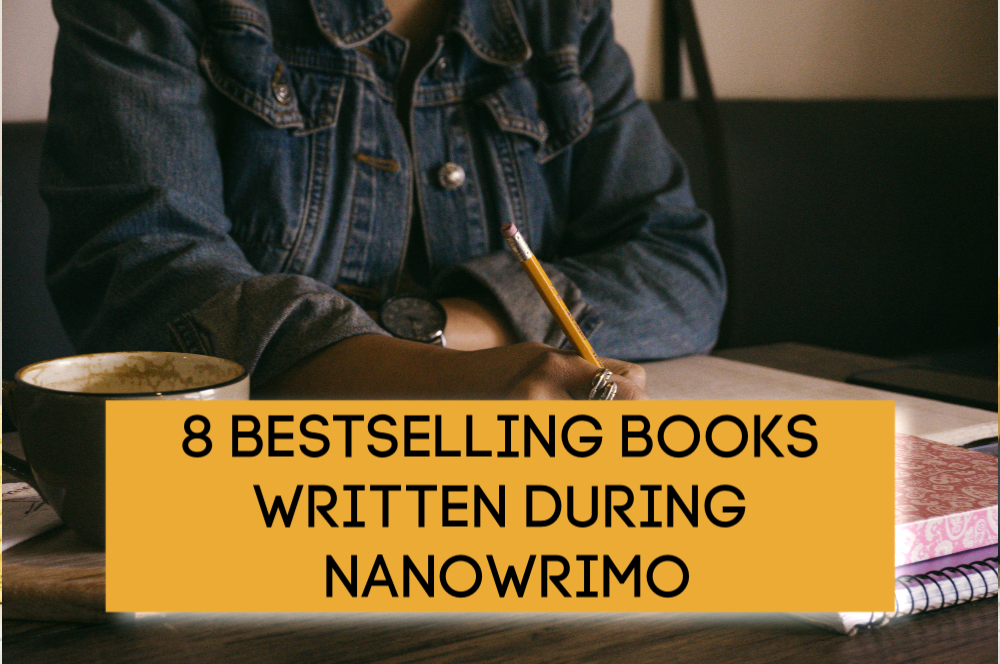 8 bestselling books written during NaNoWriMo
By: Jill Grunenwald, Marketing and Communications Specialist
It's November, which means it's National Novel Writing Month! For the next 30 days, writers all over the world will be sitting down at their computer or notebook with the intention to write 50,000 words. That's an average of 1,667 words a day, every day, for an entire month.
Many try, but not all succeed (I can count myself among that group, although this year I am determined to reach that 50,000 word goal!). Libraries often prove to be a wonderful resource for the local writers in their community during this time. Along with just simply providing quiet space, many libraries also host write-ins where writers gather for a few hours and crank out as many words as they can.
But another way libraries can encourage writers is by showcasing the potential that can come out of a NaNoWriMo story. Several well-established authors used NaNoWriMo to jump-start their books and continue to participate every year with new books. Here are eight bestselling books that started as NaNoWriMo projects:
The Night Circus by Erin Morgenstern
Morgenstern's debut novel is often touted as the biggest title to come out of NaNoWriMo, and for good reason. The Night Circus, featuring two star-crossed magicians, was an immediate bestseller and written over the course of three NaNoWriMos. For fans who have been clamoring for more Morgenstern, the long wait is soon over: Her second novel, The Starless Sea, is set to be published Nov. 5.
A Blade So Black by L.L. McKinney
A contemporary retelling of Alice's Adventures in Wonderland involving a Black teenage protagronist who has been tasked with battling monstrous creatures? Sign me up.
Cinder by Marissa Meyer
So you could write one novel over the course of three Novembers or you could be like Meyer and write three novels in a single November. Yes, you read that correctly. 150,011 words in a single month. I'm also not entirely sure how she did it either, but here we are. Her Lunar Chronicles series is a retelling of classic fairy tales with a sci-fi twist, like the cyborg Cinderella in the first book of the series.
Fangirl by Rainbow Rowell
My personal favorite from this list, Fangirl was practically written for 18-year-old me who studied creative writing in college, wrote a lot of fan-fiction and was (well, is) obsessed with Harry Potter. Rowell loved her book-within-a-book of Fangirl so much she wrote two companion novels, Carry On and Wayward Son, that focus on the fictional Simon Snow.
Wool by Hugh Howey
Wool started as a short story that Howey self-published, but after noticing its rising popularity among readers, he decided to use NaNoWriMo as an opportunity to flesh out the story and turn it into a larger piece of fiction.
Side Effects May Vary by Julie Murphy
Before Dumplin', there was Side Effects May Vary. Murphy's debut is about Alice, a 16-year-old who is diagnosed with cancer. She asks her best friend to help her with a bucket list that's just as much about revenge as it is about hope. But just as her scores are settled, she goes into remission and now has to face the consequences of all she's said and done.
The Astonishing Color of After by Emily X.R. Pan
Alternating between real and magic, past and present, friendship and romance, hope and despair, this is a stunning and heartbreaking novel about finding oneself through family history, art, grief, and love.
Water for Elephants by Sarah Gruen
I started working at a Barnes & Noble shortly after this book came out and it was everywhere. It was on bestseller lists for a year and was turned into a major Hollywood movie, so it's kind of amazing to think that it started as NaNoWriMo project.
These titles and more published NaNoWriMo books are available for purchase in Marketplace. After buying, consider turning them into a curated collection on your OverDrive website and inspire readers and writers all month long. And visit our Libby Life blog to discover more books written during NaNoWriMo!
Browse blog and media articles