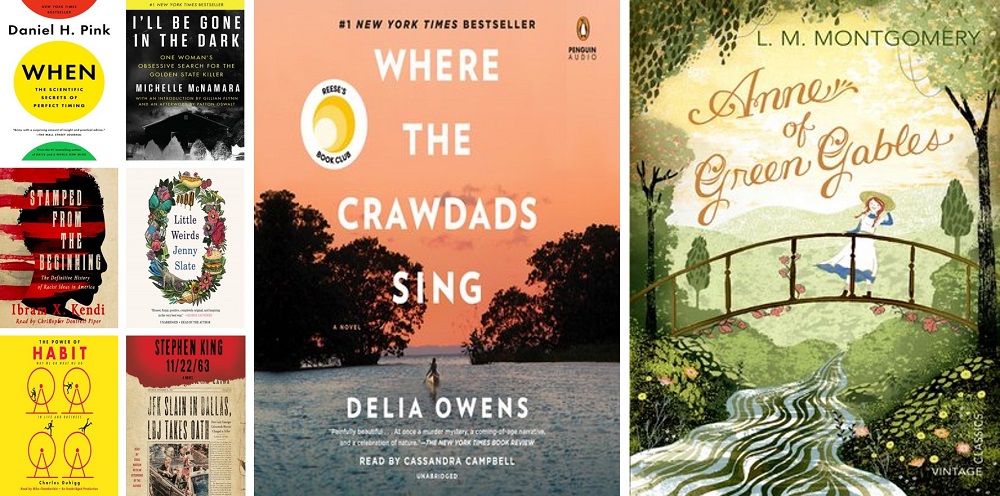 May 2020 begin your best reading decade yet
By: Tiffany Wincek, Product Liaison
In 2017, I failed to reach my reading goals.
In 2018, I followed a self-made plan and hit my goal.
And in 2019, I had my best reading year yet. I aimed to read 100 books, and I finished 105. What will 2020 bring? The past few years have taught me some lessons I'll carry into this new decade.
Be prepared
My Goodreads TBR ("to-be-read") list is swiftly approaching 1,400 books. I listen to several reading podcasts, belong to two book clubs and am surrounded by librarians and book lovers at work…so can you blame me?
Okay, fair, maybe that number is exorbitant, but I'd be lying if I said I didn't want to read them all! Creating a focused reading list is what kept me on track in 2018. Last year, I continued the practice by keeping a shelf of books to read in 2019, and I added a new one: books I finished throughout the year. While I know it's possible to narrow down my entire "Read" shelf to see what I completed in any particular year, it's nice to have a consolidated time capsule of titles.
Follow your heart
Though I still advocate for tracking as a great way to focus your reading goals, being too rigid runs the risk of fostering a joyless reading life. While I was successful in 2018 because I prescribed a specific journey, in 2019, I chose to regularly stray from my list, letting the seasons take me in new directions.
Every October, one of my book clubs tends to pick spooky titles to get into the Halloween spirit. I know book club picks will always bump a few others from my self-imposed list, but the group discussions and camaraderie are worth it (even if the club isn't likely to let me pick a book again anytime soon). This past October's titles were Stephen King's 11/22/63 and Henry James' The Turn of the Screw; the former was a hit, but I may have been one of only two who finished the latter (and that's only because it was my pick). I'm sorry, Henry James, but I think perhaps it's you who owes me an apology from beyond the veil.
In December, after reading too many heavy titles in a row, I asked my coworkers for heartwarming holiday book recommendations and subsequently spent a week submerged in Jasmine Guillory's Wedding Date series, even though romance isn't my thing (I'm shaking my fist and glaring at you, too, Dragonfly in Amber). Although the recommendation was for the fourth book in Guillory's series, I couldn't possibly read it without knowing what happened in the first three, could I? Never!
Allowing room for changes to my reading list brought so many lovely surprises my way, and I'm glad I was more flexible in 2019.
Audio, again and always
The reason you keep hearing people laud audiobooks isn't a mystery; I'd never finish as many books as I do without these gems. Though true multitasking is a myth, I do just fine pairing household tasks with a book. Dishes, dusting, laundry? Turns out I trifold better with proper narration.
Last year did bring something new and unexpected to my audiobook life, though: a major increase in my playback speed. In 2018, I listened at 1.25-1.5x, and through 2019 I've bumped up to 1.75-2.0x the original speed. I'm surprised how much my personal reading landscape has changed in just 365 days.
Looking forward
Reading 100 books in a year showed me that I could probably read 150 if I set my mind to it, but I decided to keep my 2020 reading goal steady at 100. Why? I fear setting my target too high will feel like racing against the clock. I'm trying to bring more joy to my reading life, not suck the delight from it, and I'd be happy to have another 100 books under my belt by next January.
Below you'll find some of my favorite titles from 2019. What were yours?
Tiffany's favorite titles from 2019
---
About the Author:
Tiffany Wincek, the Product Liaison for OverDrive Education, taught in New York public schools for 10 years prior to joining Team OverDrive. She holds degrees in English, education, and literacy and loves making authentic connections with and providing solutions for OverDrive partners. In her spare time, she enjoys reading, baking, lifting heavy things, and listening to nothing but Nothing But Thieves.
Browse blog and media articles