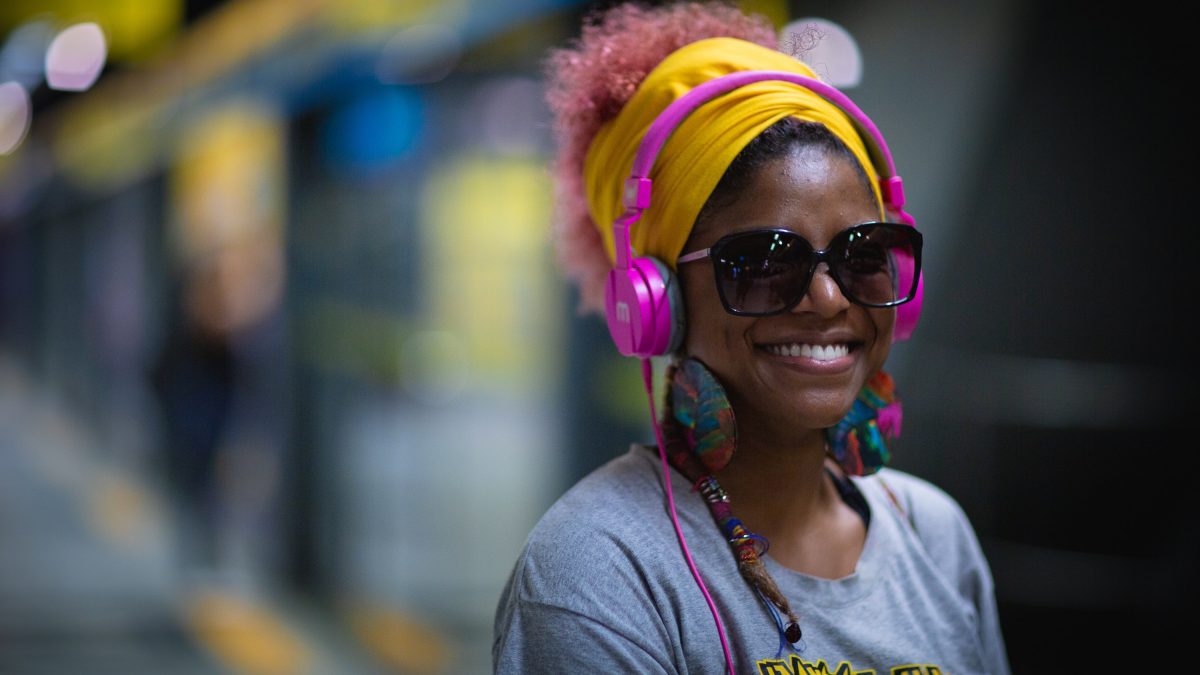 And the Audie goes to…
By: Adam Sockel, Integrated Marketing Specialist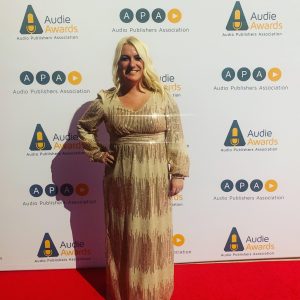 Thanks to the ease of access provided by reading apps like Libby, audiobooks have continued to skyrocket in usage and notoriety. Gone are the days of finding a place to store a dozen CDs to enjoy an audiobook, as 114 million of them were borrowed digitally on OverDrive apps and websites in 2019 alone. The borrowing of digital audiobooks continues to outpace even library ebook usage. Therefore, it makes sense that more attention is being paid to the biggest audiobooks of the year. The Audie Awards are handed out each year to celebrate the best audiobooks in various categories.
The awards are voted on by a large committee of over 200 judges as the Audiobook Publishers Association (APA) throws a large gala to celebrate the winners and spoken word entertainment as a whole. OverDrive's own Lauren Cannavino is a member of the APA and attended the gala in New York City.
"The 2020 Audie Awards was a glamorous event packed with over 500 guests of the audiobook industry's best and brightest," Lauren said. "The 25th Anniversary Gala celebrated and recognized an industry great — Stephen King — who took home the year's Lifetime Achievement award and paid homage to authors, narrators, publishers and all that support (or work in) this growing and important industry."
Professional Book Nerds Audie Awards podcast
Robin Whitten, creator of AudioFile magazine, has 25 years experience covering audiobooks and their performance aspects. She joined our Professional Book Nerds podcast this week to break down the Audie Award winners, the gala and some of her favorite audiobooks that didn't win awards.
Audie Award Winners
Audiobook of the Year – The Only Plane in the Sky by Garrett M. Graff – Award-winning journalist and author Graff paints a comprehensive, minute-by-minute account of the September 11 attacks. Told in the words of 45 people who experienced that dramatic and tragic day.
Audio Drama – Angels in America by Tony Kushner – Andrew Garfield, Nathan Lane, and the entire cast recreate their acclaimed performances from the 2018 Tony Award-winning National Theatre revival.
Autobiography / Memoir – Becoming by Michelle Obama – Michelle Obama invites listeners into her world, chronicling the experiences that have shaped her. From her childhood on the South Side of Chicago to her years as an executive balancing the demands of motherhood and work to her time spent at the world's most famous address.
Best Female Narrator – Nothing to See Here by Kevin Wilson – Narrated by Marin Ireland, the story of two roommates at an elite boarding school that lose touch after a scandal only to be reunited under auspicious circumstances.
Best Male Narrator – Kingdom of the Blind by Louise Penny – Narrated by Robert Bathurst, the latest adventure of Chief Inspector Armand Gamache. A peculiar letter arrives inviting Armand Gamache to an abandoned farmhouse, the former head of the Sûreté du Québec discovers that a complete stranger has named him one of the executors of her will and, as would happen, something is amiss.
Business / Personal Development – So You Want to Start a Podcast? by Kristen Meinzer – This comprehensive step-by-step guide to creating a hit show covers everything from hosting and guest booking to editing and marketing – while offering plenty of encouragement and insider stories along the way.
Faith-Based Fiction & Nonfiction – How the Light Gets In by Jolina Petersheim – Narrated by Tavia Gilbert. When Ruth Neufeld's husband and father-in-law are killed working for a relief organization overseas, she travels to Wisconsin with her young daughters and mother-in-law, Mabel, to bury her husband. Ruth finds hope of new love but an unexpected twist threatens to unseat the happy ending Ruth is about to write for herself.
Fantasy – The Ten Thousand Doors of January by Alix E. Harrow – Narrated by January LaVoy. Impossible journeys, infinite worlds of possibilities, and a book that carries the scent of unlimited potential. This was one of the very best books of 2019 and the audiobook is equally as stunning.
Fiction – City of Girls by Elizabeth Gilbert – Narrated by Blair Brown. In 1940, 19-year-old Vivian Morris has just been kicked out of Vassar College, owing to her lackluster freshman-year performance. Her affluent parents send her to Manhattan to live with her Aunt Peg, who owns a flamboyant, crumbling midtown theater called the Lily Playhouse. There Vivian is introduced to an entire cosmos of unconventional and charismatic characters.
History / Biography – American Moonshot by Douglas Brinkley – Narrated by Stephen Graybill. Douglas Brinkley takes us back to the 1960s to recreate one of the most exciting and ambitious achievements in the history of humankind. American Moonshot brings together the extraordinary political, cultural, and scientific factors that fueled the birth and development of NASA and the Mercury, Gemini, and Apollo projects.
Humor – More Bedtime Stories for Cynics – Nick Offerman and his posse of high-profile guests present a series of 12 short stories written in the style of classic kid's tales, but with a decidedly adult approach.
Literary Fiction & Classics – The Water Dancer by Ta-Nehisi Coates – Narrated by Joe Morton – Young Hiram Walker was born into bondage. When his mother was sold away, Hiram was robbed of all memory of her – but was gifted with a mysterious power. Years later, when Hiram almost drowns in a river, that same power saves his life.
Middle Grade – Charlotte's Web by E.B. White – Brought to life by Meryl Streep and a full cast, this beloved book by E. B. White is a classic of children's literature that is "just about perfect" (New York Times). Some Pig. Humble. Radiant.
Multi-voiced Performance – The Only Plane in the Sky by Garrett M. Graff
Mystery – The Chestnut Man by Søren Sveistrup – Narrated by Peter Noble. A psychopath is terrorizing Copenhagen. His calling card is a "chestnut man" – a handmade doll made of matchsticks and two chestnuts – which he leaves at each bloody crime scene.
Narration by the Author – With the Fire on High by Elizabeth Acevedo – Ever since she got pregnant freshman year, Emoni Santiago's life has been about making the tough decisions – doing what has to be done for her daughter and her abuela. The one place she can let all that go is in the kitchen, where she adds a little something magical to everything she cooks, turning her food into straight-up goodness.
Nonfiction – Grace Will Lead Us Home by Jennifer Berry Hawes – On June 17, 2015, 12 members of the historically black Emanuel AME Church in Charleston, South Carolina welcomed a young white man to their evening Bible study. He arrived with a pistol, 88 bullets, and hopes of starting a race war. Dylann Roof's massacre of nine innocents horrified the nation. Two days later, some relatives of the dead stood at Roof's hearing and said, "I forgive you." That grace offered the country a hopeful ending to an awful story. But for the survivors and victims' families, the journey had just begun.
Original Work – Evil Eye by Madhuri Shekar – Usha is convinced that the Evil Eye, a curse that brings continuous misfortune, was cast upon her daughter, Pallavi, in the womb. What else could have possibly left her driven, career-oriented daughter edging closer and closer to 30 without a prospective husband?
Romance – Devil's Daughter by Lisa Kleypas – Narrated by Mary Jane Wells. Although beautiful young widow Phoebe, Lady Clare, has never met West Ravenel, she knows one thing for certain: he's a mean, rotten bully. Back in boarding school, he made her late husband's life a misery, and she'll never forgive him for it.
Science Fiction – Emergency Skin by N.K. Jemisin – Narrated by Jason Isaacs. An explorer returns to gather information from a climate-ravaged Earth that his ancestors, and others among the planet's finest, fled centuries ago. The mission comes with a warning: a graveyard world awaits him.
Short Stories / Collections – Full Throttle by Joe Hill – In this masterful collection of short fiction, Joe Hill dissects timeless human struggles in 13 relentless tales of supernatural suspense narrated by a full cast of famous actors and authors.
Thriller / Suspense – The Institute by Stephen King – Narrated by Santino Fontana. In the middle of the night, in a house on a quiet street in suburban Minneapolis, intruders silently murder Luke Ellis' parents and load him into a black SUV. The operation takes less than two minutes. Luke will wake up at The Institute, in a room that looks just like his own, except there's no window. And outside his door are other doors, behind which are other kids with special talents – telekinesis and telepathy – who got to this place the same way Luke did.
Young Adult – Hey, Kiddo by Jarrett J. Krosoczka – In this profoundly moving memoir about growing up in a family grappling with addiction, Krosoczka describes his youth. His mom was an addict, in and out of rehab; his father was a mystery; and Jarrett lived with his grandparents – two very loud, loving, opinionated people who had thought they were through with raising children until Jarrett came along.
Young Listeners (Up to age 8) – The Pigeon Has to Go to School by Mo Willems – The Pigeon is about to get SCHOOLED. Why does the Pigeon have to go to school? He already knows everything! And what if he doesn't like it? What if the teacher doesn't like him? What if he learns TOO MUCH!?!
Tags In
Browse blog and media articles