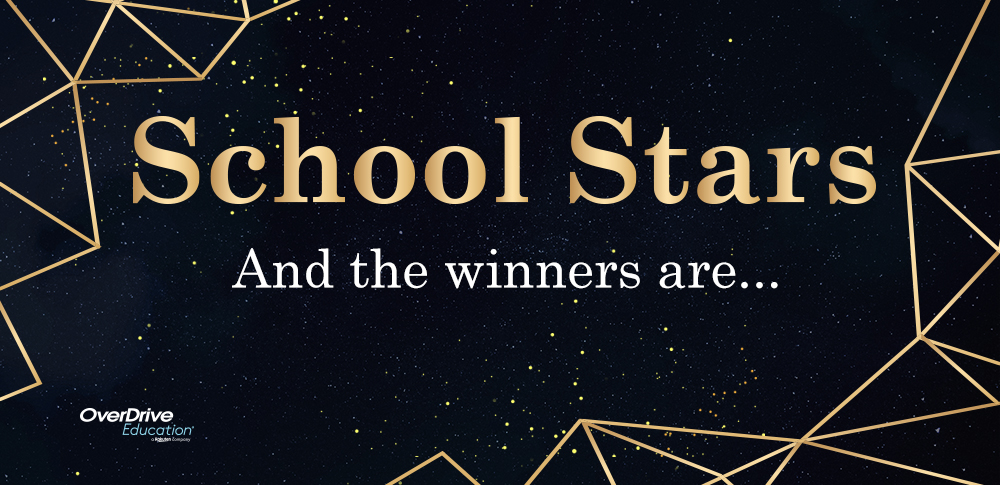 School Stars 2020: Winners announced!
By: Christina Samek, Outreach Specialist
That's a wrap on another School Stars promotion contest! As with past years, there were so many wonderful entries, so many promotional all-stars to choose from, but we were able to narrow it down to the schools and districts below!
Grand Prize: Eric S. Smith School
According to Librarian Nicole Wohlrab, students at Eric S. Smith Middle School in Ramsey, NJ, challenged themselves to come up with ways to promote the Sora reading app in their school to attract new student users.
They landed on a video showing students and staff "vanishing," only to be found hiding out and listening to or reading audiobooks and ebooks. The students recorded the video themselves, with Wohlrab piecing it all together in WeVideo. It's a suspenseful, hilarious ride from start to finish!
Take a look:
Best Bulletin Board or Visual Display – Autrey Mill Middle School
"Students don't know, until they know," notes Martha Bongiorno, media specialist at Autrey Mill Middle School (GA). Bongiorno uses visual displays coupled with QR codes to alert her students of all the great titles in Sora. For instant gratification, they advertise right on the shelves.
"If the physical book is not here, we want students to know we are thinking of their needs with our digital collection," says Bongiorno. When a student isn't sure what to read, the library helps them to decide with BookFlix (Autrey Mill Middle's spin on the Netflix platform, template detailed here). BookFlix shows available print and digital books based on students' favorite reads, as recommended by their Student Library Advisory Board. Made up of students grades 6-8, the advisory board helps add new books and change out books each month to keep recommendations fresh!

Best Classroom Use or Activity – Atascocita Middle School
We loved the SORA STAMPEDE staged by Atascocita Middle School (part of Humble ISD in Humble, TX). Media Specialist Brooke King hosted the activity to promote Humble ISD's new Public Library CONNECT partnership with Harris County Public Library.
The "stampede" included breakfast, a photo booth with props and prizes for badges. Students were also shown how easy it is to connect to the public library in Sora. "It was a blast," says King – and it sure looks like it!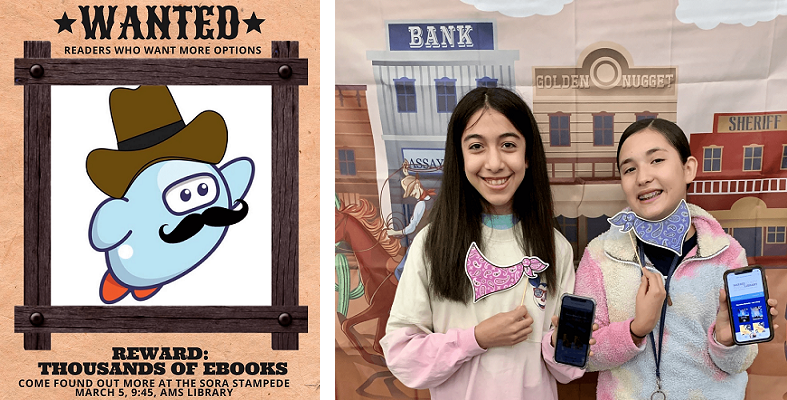 Best in Social Media – River Trail Middle School
Last year's grand prize winner, Media Specialist Sarah Sansbury at River Trail Middle School (GA), has done it again. In 2019, she won due to her innovative use of social media, and she continues to inspire in 2020. This year, she focused her efforts on access to the public library.
According to Sansbury, "I helped connect students' Sora account to their public library card, curated resources for teachers and gave students an empowering platform to be seen and heard." She notes that, as a media specialist, one of her main roles is making sure students have access to as many books as possible 24/7 – with or without WiFi. To expand students' access to more books, she partnered with their local public library branch and did a library card drive with their school's reading classes.
In addition to student access, Sansbury also advocates for teachers to use Sora. She wants Sora to be the go-to place for teacher resources and has made collections to support reading and writing units for all grade levels. She promotes all this (and more) using free social media accounts (@salaughs) we can all access.

Best in Student Participation (Teens) – Roanoke County Schools
Students at Roanoke County Schools (VA) knew exactly what would attract their peers' interest in Sora: TikTok, of course!
Scratching your head on what that is, exactly? It's only the fastest-growing, most popular social media platform among teens right now. Check out this video, submitted by Librarian Lauren Sprouse, but student produced and performed. See below!
Best in Student Participation (Young Readers) – Stratford School
We got a lot of great video entries this year, including this one from students at Stratford School in Saratoga, CA. Head Librarian Keira Pride notes that her students love Sora – and it shows. From January 2019-February 2020, Stratford students opened 27,021 books in Sora, spent 22,729 hours reading, earned 5,571 achievements and enjoyed an average of 286 minutes per month reading. Listen to them share the love below:
---
Additional congratulations to our runners-up, listed by category:
Bulletin Board or Visual Display Runner-up:
Yung Ahn, Fairfield Suisun Unified School District (Fairfield, CA)
Classroom Use or Activity Runner-up:
Stephanie Harney, QUEST Hilton Central School District (Hilton, NY)
Social Media Runner-up:
Amy Ragan, American International School of Budapest (Nagykovácsi, Hungary)
Student Participation (Teens) Runner-up:
Barbara Chappell-Brown, Sweetwater Union School District (Chula Vista, CA)
Student Participation (Young Readers) Runner-up:
Daniela Prando (Torino, Italy)
Additional shout outs to our lucky $100 Winners:
Christel Hirsch (Burke County Public Schools, NC)
Stacey Kern (Clark Pleasant Middle School, IN)
Daniel Seamans (Brunswick County Schools, NC)
Michael Russell (Lee's Summit School District R-7, MO)
Patricia Jimenez (Glendale Union High School District 205, AZ)
---
School Stars will return in 2021! If you have any fun, engaging promotional ideas for Sora that you'd like to share before then, please contact your OverDrive team – we're always looking to showcase educators' creativity on our blog and social media!
Until next time, stars!
---
About the Author:
Christina Samek is an Outreach Specialist at OverDrive. She develops resources that help K-12 educators grow engagement among their students, faculty and parents. Prior to coming to OverDrive, she worked in the magazine industry. She has a degree in journalism and English literature from Miami University (OH). She loves reading, writing, running, her adorable little boy, her husband, cherry turnovers and her dog, Willow.
Tags In
Browse blog and media articles