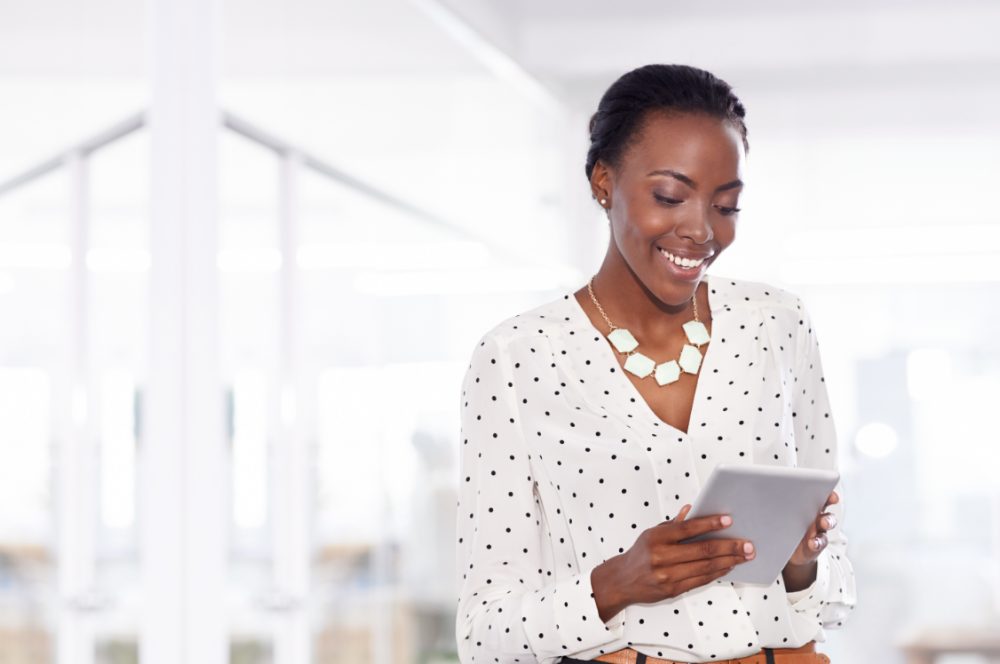 How OverDrive Professional partners connect with their employees using curated collections
By: Jill Grunenwald, Marketing & Communications Specialist
Curated collections are one of the best tools available in an OverDrive partner's toolbox. With curated collections, partners can highlight various titles and subjects in their digital libraries. For our OverDrive Professional partners, curated collections are an opportunity to meet the needs of their employees no matter where they are by showcasing the full range of titles available in to them.
Here's how two corporations are using their OverDrive digital library website to provide personal and professional development for their employees.
Duke Energy
One company doing tremendous things with their OverDrive site is Duke Energy. Their physical library has closed and they have gone completely digital with OverDrive. The digital library is an opportunity for them to connect with their employees regardless of location. By harnessing the power of the hero banner at the very top of their site, Duke Energy encourages employees to learn about timely topics, such as anti-racism reads.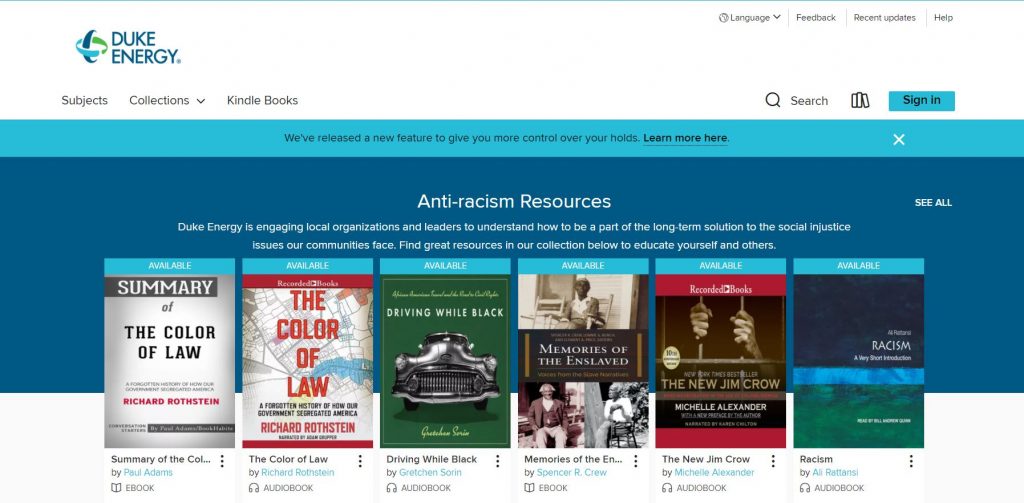 With all of their employees relying on the digital library, Duke Energy has also put a focus on providing professional development titles for their remote employees, including a curated collection with titles focused on Working Virtually. Other curated collections related to professional development include Project Management, Dummies books and several collections that support their Duke Energy Leadership Imperatives.
AARP
Like many companies, AARP hosts a book club for their employees, and they utilize the hero banner at the very top of their site to make it easy to find the titles. Digital Book Clubs are a great way to engage your employees in a shared experience by encouraging everyone to read and discuss the same book.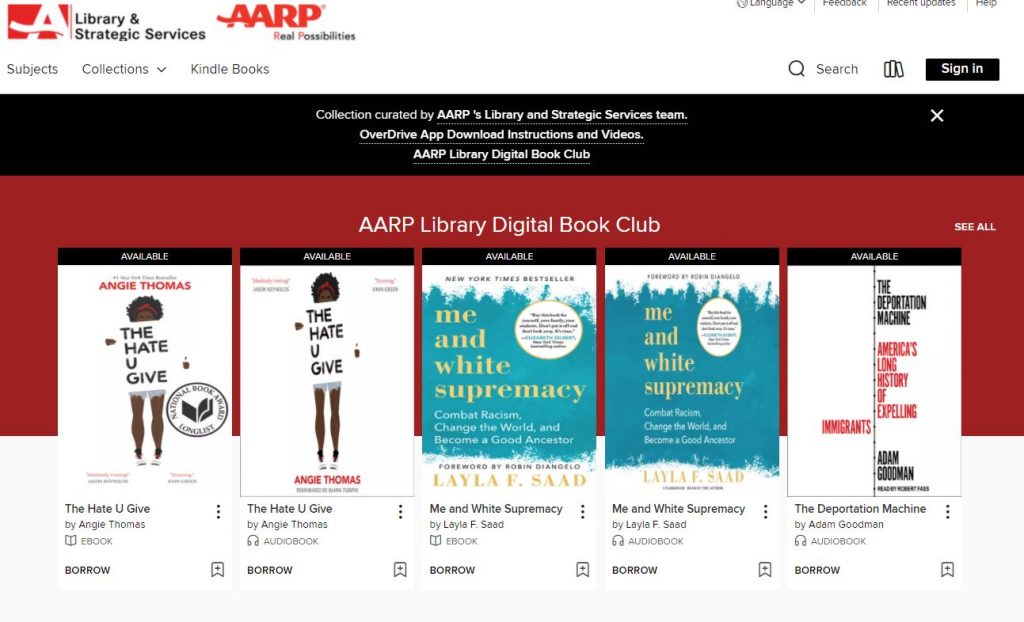 AARP also frequently features titles related to specific social issues, including Black History Month and LGTBQIA+ titles. Right now, they have a curated collection devoted to Combating Racial and Social Injustice.
Along with their Digital Book Club and social justice collections, AARP also has curated collections related to its mission, including Aging, Healthy Living and Career Development and Financial Resilience.
Compared to large public libraries, AARP and Duke Energy have relatively small digital collections. But both have worked hard to build collections that strengthen their employees' personal and professional development. With curated collections, Duke Energy and AARP are able to get the right book into the hands of readers no matter where they are located.
Learn more
Want to learn more about how you can empower your employees with an OverDrive digital library? Contact us at professional@overdrive.com.
Current partners can visit our Training Center for how-to videos on curation, as well as other training resources, including training kits and on-demand webinars. You can also register for one of our upcoming live webinars.
If you have any questions about curation, please contact your Account Manager.
Tags In
Browse blog and media articles