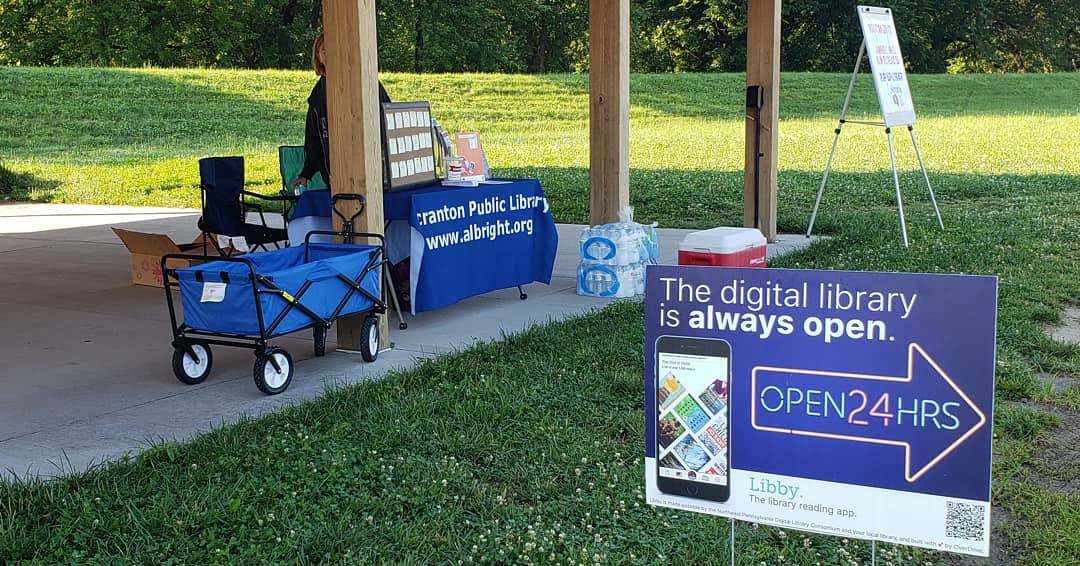 Libby Spotlight: Northeast Pennsylvania Digital Library
No longer just for promoting politicians, yard signs have been popping up on front lawns and in green spaces across the country. Gaining popularity during the pandemic, yard signs have proven to be an easy, portable option for getting a message out to passerby. A group of 25 libraries in Northeast Pennsylvania decided to try yard signs for the first time to promote their digital collection around their communities. We spoke with Michele Legate, District Consultant for the Northeast Library District, about how they used yard signs at their area libraries and community events, and learn what to consider if you'd like to try it, too.
Where did you get the idea to invest in yard signs?
Our committee, made up of representatives from many of the libraries within our district, had a surplus of budget from 2020-2021, and we decided to make the investment in promoting Libby. We brainstormed unique and useful ways to do this. One committee member brought up creating banners to hang and another member took it further and suggested yard signs would be even easier than banners as they could simply be put in the ground, rather than having to find ways to hang a banner.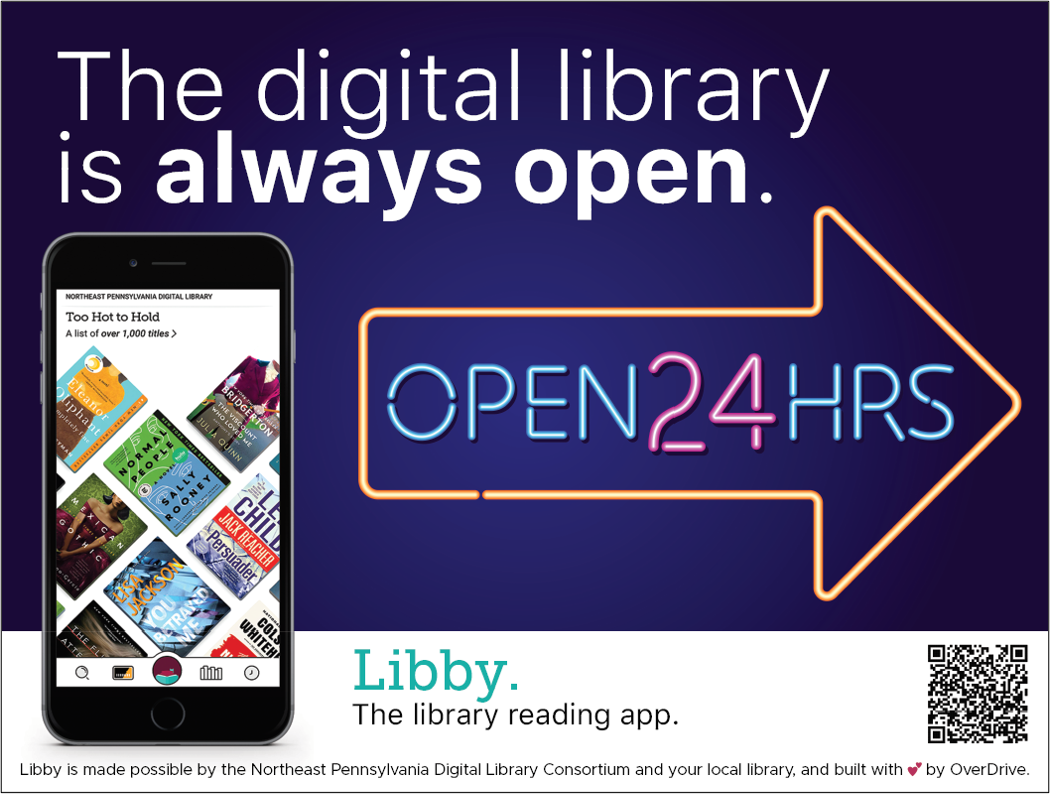 How did you decide what to feature on the signs?
I wanted to promote the fact that the Libby app is always available, even when our library buildings may be closed. The year 2020 proved just how important libraries are to our communities and any way we can let people know they can access ebooks and audiobooks 24/7 is welcome.
I browsed through the Resource Center and found a graphic that caught my eye. I contacted our Account Manager, who connected us with OverDrive's amazing design team that did the rest for us. All of the design work was free of charge.
What was your financial investment?
We spent just over $1,500 for 250 signs and stakes.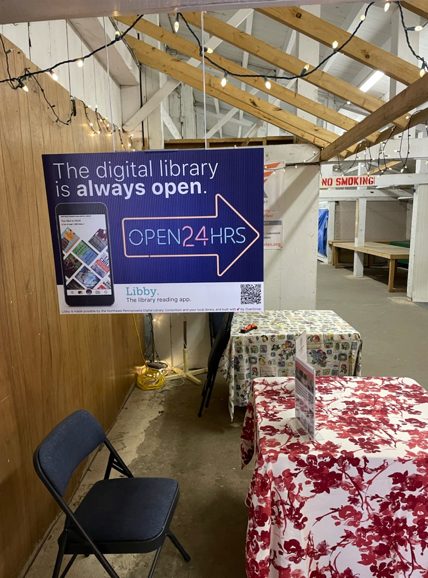 How will libraries be using the signs to promote the digital collection?
We distributed the signs to all of our libraries through a delivery service in the district, so we utilized our van to deliver most of the signs. Libraries are posting the signs on their lawns, near their overnight book drops, and using them at community events. Our libraries are all very involved in our communities and in the few weeks we've had the signs, they've already made appearances at Pop-Up Library events and at library tents at a county fair. We've also begun to contact businesses and organizations to inquire about posting the signs on their property.
One tip to share: we didn't consider is that the design of the sign has an arrow and it can be misinterpreted as a directional sign. I would change the arrow to a simple box design. The signs can also be used in multiple ways that don't require the stakes. They can be used in window displays, hung from ceilings (see on the left), etc. The signs are incredibly versatile.
We had considered placing them in local parks and on nature trails but so far, we have decided against it. We want to make sure the signs are placed in places that have regular human oversight so that in case of disturbances due to storms, the signs can be removed or replaced and not become litter.
We have already seen success by staff catching people stop their cars to run up and scan the QR codes on the signs.
Great idea to include the QR code! They've proved to be an efficient way to give passerby a quick path to download Libby. Many libraries have been utilizing QR codes for years, but they've become even more popular during the pandemic as a no-touch way to scan restaurant menus, check out at retail stores, and more.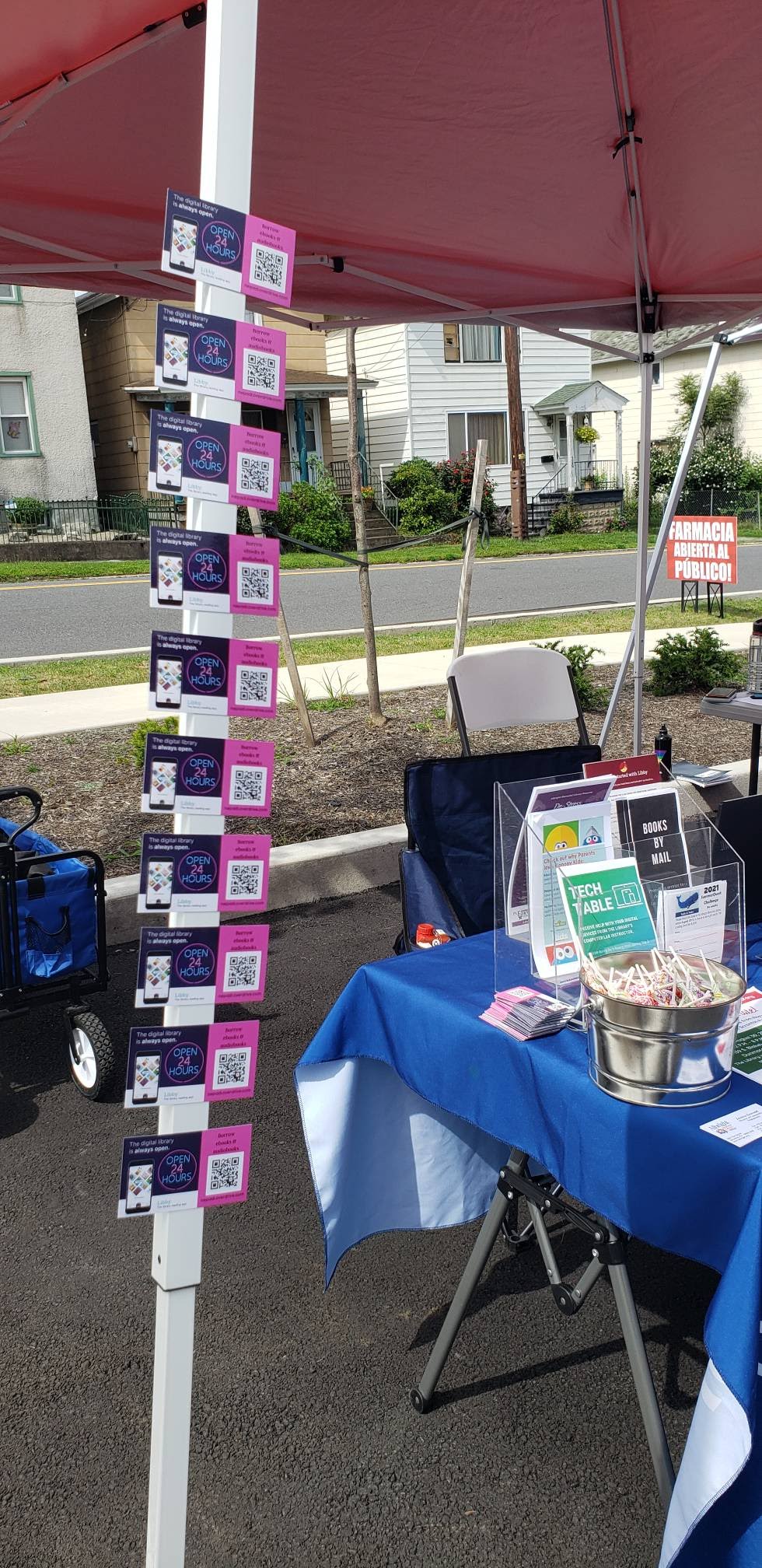 What other ways have you found success promoting Libby?
Magnets! We used the same design that is on the signs on a magnet and also included the QR code and people have really liked them. Also, being a library, people love bookmarks. I know I can basically never have too many bookmarks. We are also brainstorming other unique ways we might promote Libby in the future including ear buds, coasters and can coozies.
Last but not least, in your opinion, why is digital reading important?
Digital reading can level the playing field for those with vision impairment and engage reluctant readers. Ebooks and audiobooks are also fantastic ways to engage non-library users and welcome them to the wonder that is the public library.
Want to try Libby yard signs at your library or community events? Contact us for your own customized design.
If you would like to nominate your library to be featured in an upcoming spotlight, please contact us and let us know what you're doing in your library and how you are reaching more users with Libby.
Tags In
Browse blog and media articles