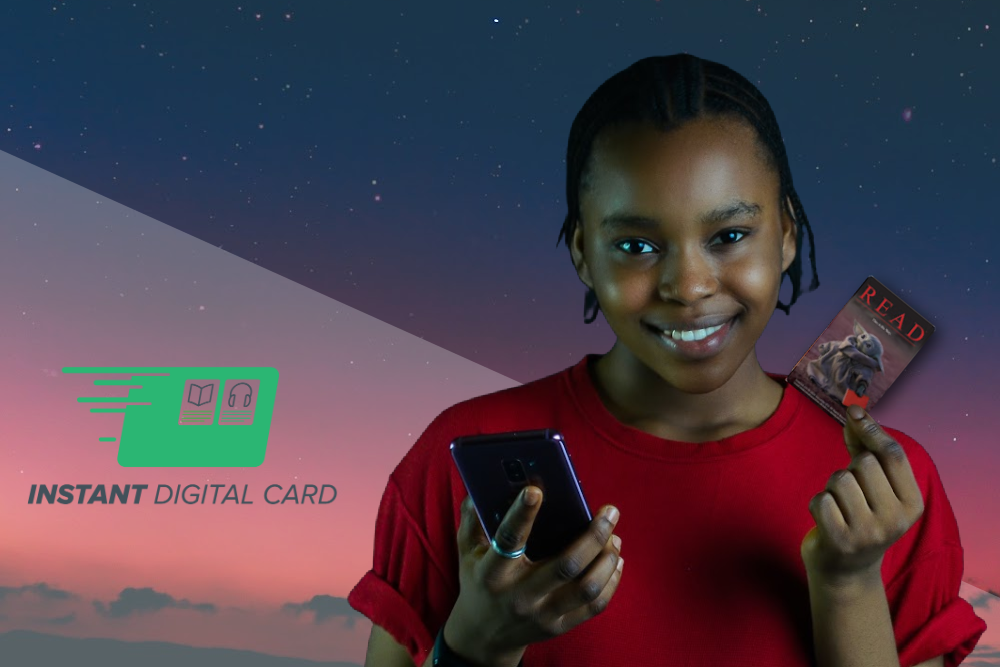 Let your imagination sing during Library Card Sign-Up Month
By: Jill Grunenwald, Marketing & Communications Specialist
I got my first library card when I was in grade school. I'm fairly certain it was part of an annual field trip to the local library that all the kids would take at the end of every school year, but I can't be sure. By high school, when I was working in that same public library as a page, I had the card number memorized. Long after the library had changed the card design from tan and brown to a bright explosion of color, I used that original library card with my tiny, messy signature.
(Then one day when I was in college, I had given my dad my card so he could go pick up some items for me. The card was slightly warped and my dad, in an effort to help, tried to bend it in the opposite direction. Instead, the card snapped in half. So, then I had to get a new library card with a new number that I have yet to memorize even though it's been 20 years and I still use that library consortium.)
Let your imagination sing at the library
September is Library Card Sign-Up Month, and libraries all over are celebrating! This year's theme is Let your imagination sing at the library and, really, if that doesn't perfectly encapsulate the joy that library cards bring I don't know what else does.
This month is always a wonderful time to remind your community about all of the amazing services your library offers, like books for kids and teens, technology access, and programming suitable for all ages. (My own local library offers a Spice Club where every month you can sign up to get a kit that includes enough spice for two recipes and background information on the spice. How cool is that?)
Visit the ALA website to find all the ways you can celebrate Library Card Sign-Up Month with your patrons.
Bring new users to your library in just 30 seconds with Instant Digital Card
Libraries like yours work hard to transform their communities, yet half the nation has yet to benefit from their valuable programs. We want to help more community members discover your online services – available for free, anytime and anywhere – with our Instant Digital Card (IDC) service.
IDC allows you to reach members of your community where they are — on their mobile device! In just 30 seconds, readers can start borrowing books from your OverDrive collection. All they need is a phone number. Librarians like Kelvin Watson of the Las Vegas-Clark County Library District have already found innovative ways to bring the library to the community using IDC.
Since we first introduced IDC in 2017, over 1.4 million cards have been issued through the service. That's 1.4 million users who have discovered new ebooks and audiobooks to love. Or have learned about an upcoming author visit at their local library thanks to Libby shelf talkers. Maybe they've even made Libby their favorite road trip companion.
Entertain and educate patrons with Libby Extras
While research shows roughly 25% of adults in the U.S. haven't read a book in the past year, library cards offer so much more! After all, who doesn't love curling up on the couch every Friday night with a bowl of popcorn and a movie you've checked out on Kanopy?
Our Libby Extras offer our library partners new opportunities to engage your community with entertainment, education and unique digital experiences. At the Sacramento Public Library, a library card not only provides patrons world-class music instruction from master musicians, but also helps patrons pursue their crafting passions. With the help of a library card, patrons at the Alameda County Library have access to a wealth of lifelong learning.
Sign up today for your free Libby Extras demo access. To learn more about how libraries are educating, entertaining and engaging their communities with Libby Extras, visit the Resource Center.
Library cards are keys that unlock a world of new stories, ideas and information. Even when they aren't a physical card, they continue to be a passport to adventure. Cheers to another Library Card Sign-Up Month and all the magic library cards provide all year long.
Tags In
Browse blog and media articles