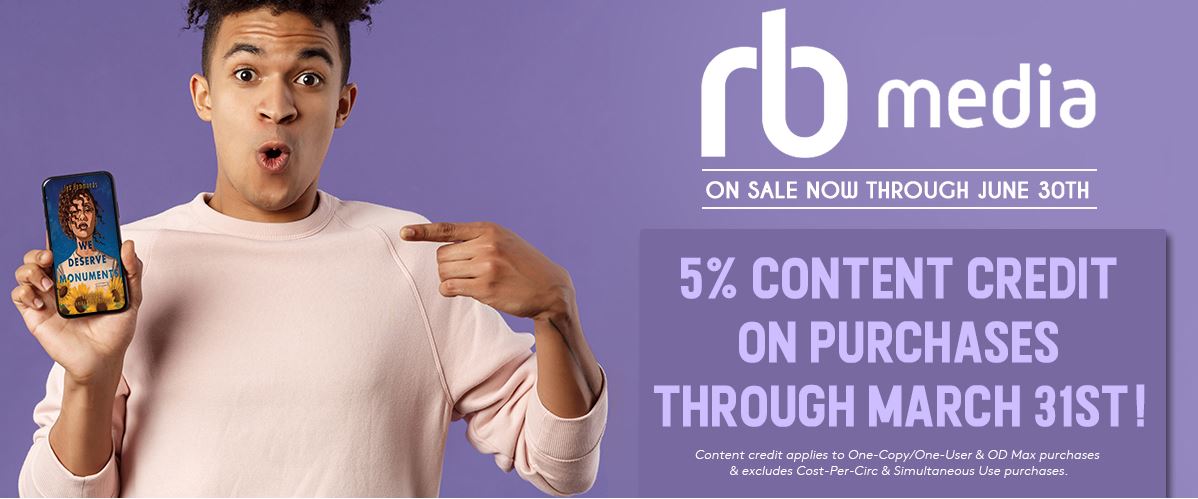 Awesome audiobooks for all your students – all on sale now!
If you're like most educators, your students probably can't get enough of audiobooks. They're a great way to appeal to every kind of reader and offer more advantages than you might've realized. But as audiobooks grow in popularity across kids of all age groups, it might be tough to keep copies of all your students' favorites available in your collection without holds or waitlists.
That's why we're excited to announce that from now through June 30, you can save on over 50,000 titles from all RBmedia catalogs, including HighBridge, Tantor, GraphicAudio and more. This includes over 5,000 juvenile and young adult audiobooks for students of every age, at every grade level.
But wait! There's more! On top of saving up to 20% on RBmedia content, from now until March 31, when you purchase titles across the RBmedia catalogs in the One Copy/One User (OC/OU) and Metered Access Concurrent Use (MACU) sales models, you'll receive a 5% content credit! (Check out our content credit primer if you need more info on what content credit is and how to use it.)
Enjoy savings on OC/OU and MACU titles
Discounted titles are available via the OC/OU and MACU lending models. (Need a refresher on how these lending models work? Check out our how-to videos and self-paced training modules.)
In addition to the discounted prices available on OC/OU and MACU titles, all RBmedia titles are now also available via the Cost Per Circ (CPC) lending model — meaning there are even more options for you to stretch your budget further and meet demand for books for every reader, whether you're buying books for the classroom, expanding your library of pleasure reading titles, or purchasing titles for book clubs and all-class or all-school reads.
Shop the discounted RBmedia titles
Ready to dive in? Scroll below to shop all discounted titles.



Browse blog and media articles