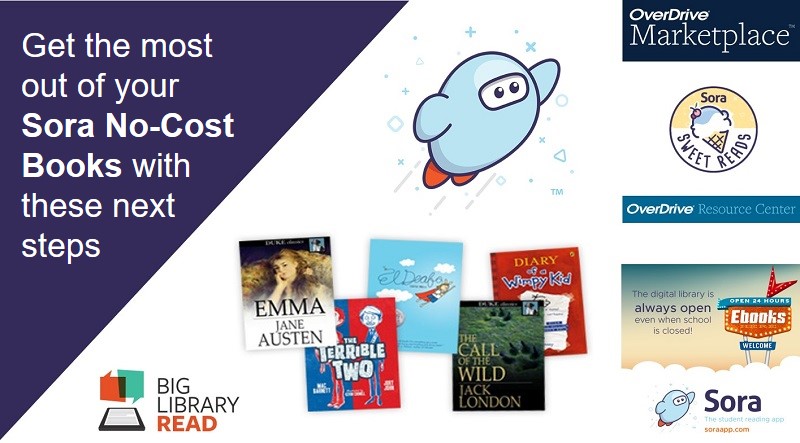 Get the most out of Sora No-Cost Books with these next steps
Last updated 6/2/20 @ 4:20 pm ET
By now, we hope that your school has had the opportunity to sign up for and access Sora No-Cost Books, a collection of 200+ premium simultaneous use titles available at no cost to schools through our Sora student reading app (details can be found here). In addition to this bundle, many of our partner schools have added low-cost or discounted titles to their collections to aid students and educators facing extended school closures due to COVID-19.
But now that you have the titles to support your remote readers, you might be wondering – how can you best leverage this content? That's why we've prepared a few recommendations for next steps to help you get the most out of your digital collection and keep your students reading.
Prepare your digital collection for students
CURATE YOUR "ALWAYS AVAILABLE" BOOKS SO KIDS CAN FIND THEM
Follow the instructions for curating a collection and run an advanced search for "lending model = SU" to identify the simultaneous use, always available books. (Note: Sora only shows lists under 200 titles, so you may want to split the titles into multiple lists, i.e. "classics" and "popular reads" OR "Juvenile" and "YA").
Promote Sora to your school community
PROMOTE SORA!
Download our School's Closed Kit and recently added Always Available Classics marketing kits to raise awareness among your students. And be sure to keep checking our Resource Center, as we update regularly with new (free!) materials for K-12 educators.
You can also try an at-home lesson or activity with a Sora Training Kit. Our newest training kit offers activities for your students while they're home. Have fun and test understanding with one lesson plan each for elementary or middle school students, and two for high school age students. This kit also includes a link to our 5-minute Sora overview video (a great primer for students, teachers, or parents), and a downloadable Getting Started with Sora flyer. Download the kit here.
CONNECT WITH PARENTS
Keep active on social media or connect with parents and your community with a memo over email or through your online learning platform.
CHECK OUT OUR REMOTE LEARNING HUB
In an effort to consolidate all of the remote learning resources we've put together over the past few months, we've created a page that hosts everything, from low cost and no-cost content offerings to supported promotional resources, teaching tools and real-life examples of schools using Sora in creative and innovative ways. Check it out: Resources for Remote Learning.
Access additional no cost or low-cost ebooks and audiobooks
SORA SWEET READS
OverDrive's summer reading program, rebranded Sora Sweet Reads, is moving its time frame up to support school closures with additional no cost content. The program offers 30 simultaneous use ebook and audiobook titles that span grades K-12. All schools using Sora are opted in automatically to Sora Sweet Reads. For more information and to check out the title list, visit Sora Sweet Reads.
SYNC AUDIOBOOKS FOR TEENS
Sponsored by AudioFile Magazine and powered by Sora starting in 2020, SYNC is a free summer audiobook program aimed at teens aged 13 and older. Returning April 30 and running for 13 weeks, SYNC makes two thematically paired audiobooks available for check out to participants each week. Students can sign up directly at the Audiobook SYNC website. To learn more about SYNC and the program's transition to Sora, register for our training webinar here.
PUBLIC LIBRARY ACCESS
Don't forget, you can also always use Sora to access additional digital titles from your local public library. Learn how to add a public library in Sora.
Contact us
We understand that this is a lot of information coming to you at a challenging time. If you feel overwhelmed or would like further guidance, please reach out to your OverDrive Education Account Manager, or contact us.
Free titles included in Sora No-Cost Books
Interested in learning more about the specific titles included in Sora No-Cost Books? Be sure to check out the complete list here. Title availability may vary by region.
Browse blog and media articles