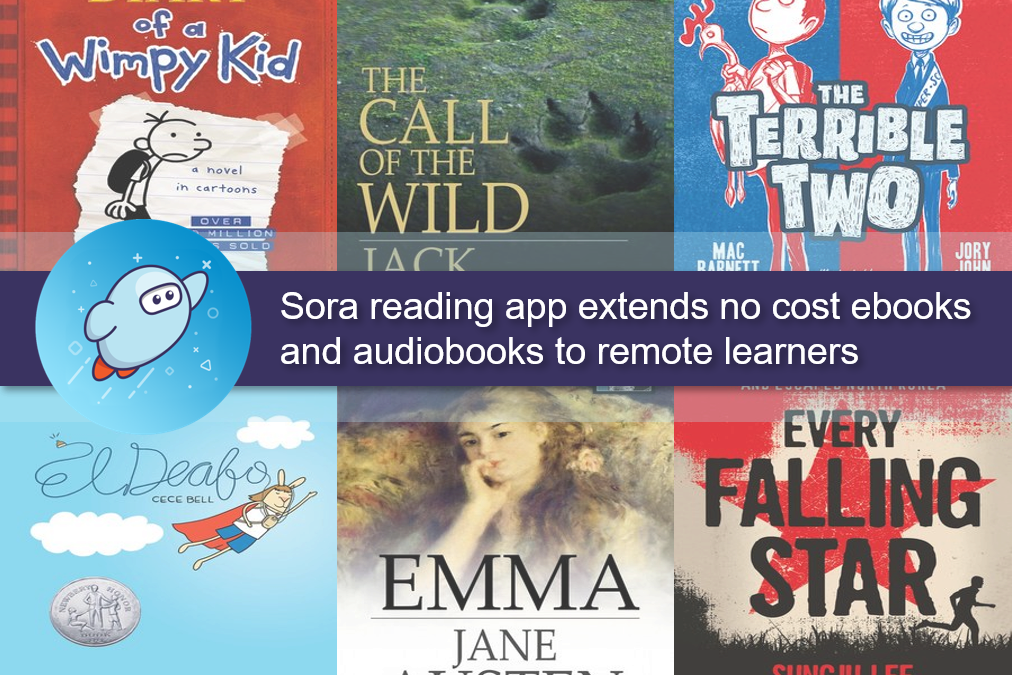 Sora reading app extends no cost ebooks and audiobooks to remote learners
Simultaneous use titles boost digital collections for schools that partner with OverDrive Education
Last updated 6/2/20 @ 4:16 pm ET
Educators are scrambling to implement contingencies for homebound students that both ensure access to needed materials and keep them independently engaged in their learning. To help your school communities meet this challenge, OverDrive Education is providing access to quality books at no cost via the student reading app, Sora, for existing partners who complete an online form.
Since the start of the COVID-19 outbreak, over 100 countries have implemented nationwide closures, affecting more than half the world's student population. For schools shifting from classroom to home learning, having a robust collection of ebooks and audiobooks can help ease the transition.
That's why OverDrive Education is offering Sora No-Cost Books (previously named the Sora Remote Reading Book Bundle). This collection includes 200+ premium simultaneous use titles from publishers like Abrams, Britannica, Bellwether Media, Live Oak, Orca and Peachtree, in addition to required reading classics like Emma and Call of the Wild. Students can read and listen to books like Diary of a Wimpy Kid, El Deafo, The Terrible Two and Every Falling Star on phones, tablets, and computers.
The collection will allow existing partner schools to offer all students access until June 30, 2020.
Sora No-Cost Books are available worldwide – specific title availability varies by region.
School districts that are not yet OverDrive partners may also request no cost ebooks and audiobooks. Additional setup is required.
More titles will be added as more OverDrive publishing partners lend their support for this initiative.
For existing Sora users, please expect titles to appear in your collection within 24-48 hours. Schools who aren't yet partners will receive an email or phone call from an OverDrive Education team member to initiate setup.
Update as of 6/1: In collaboration with Pottermore Publishing, our school partners (including schools who sign up for Sora No-Cost Books) can enjoy free, simultaneous use access to the first book in the Harry Potter series (ebook and audiobook, in every available language – availability may vary by region) – now available through June 30.
These titles are an easy way to supplement an existing digital library, and we are working with publishers to expand the collection even further. Please complete the form to request no cost titles, learn how to connect in-app to your local public library's digital collection, and learn more about other programs that also feature no cost or low-cost content.
Please complete this form to request no cost reading materials for your school.
For more information, or if you have questions, please contact your OverDrive Education Account Manager.
---
Looking for next steps now that you've accessed Sora No-Cost Books? Check out this post for valuable tips and resources to get the most out of your digital collection, plus the full list of titles in the collection (availability varies by region).
Browse blog and media articles