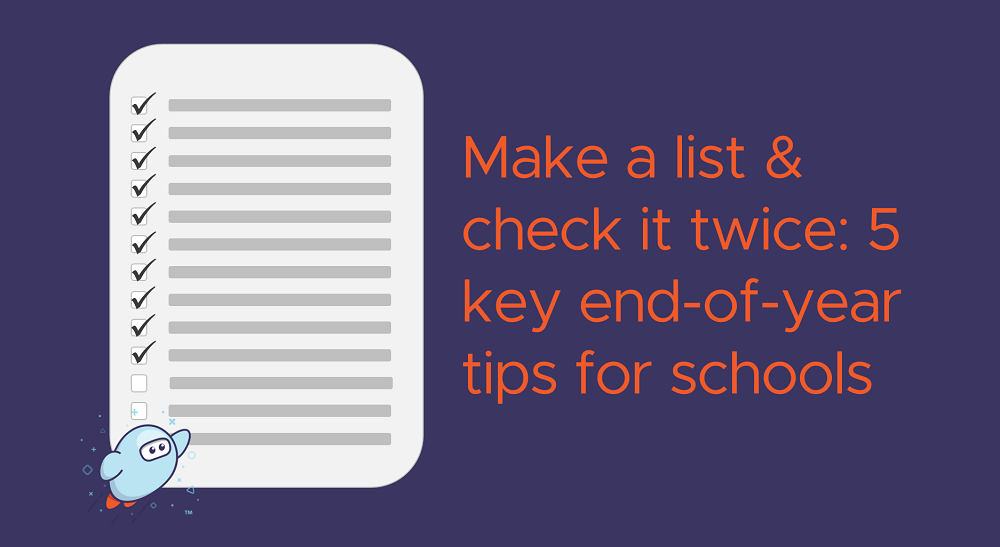 Make a list & check it twice: 5 key end-of-year tips for schools
For most of us, 2020 is a probably a year we'll be happy to see end. From the seemingly endless COVID-19 pandemic, to U.S. election madness and everything in between, it's been a high-stress year, full of unexpected challenges.
Schools, in particular, have had to rise to the occasion, finding new ways to keep students reading and learning amid shutdowns and a remote learning transition that has redefined – at least for the time being – what education looks like. And in response, we here at OverDrive have worked hard to understand the unique challenges educators face, meeting them with new resources and strategies designed to make your life easier.
To that end, we've put together a little year-end checklist to help you finish 2020 strong and kick 2021 off with fresh perspective, equipped with new insights and tips to get the most out of your digital collection.
---
1. Brush up on the basics with free training webinars
"Getting Started with Sora" and "Getting Started with OverDrive Marketplace"
Register for these two free training webinars to set yourself up for success when it comes to building your digital collection and leveraging the Sora student reading app for classroom instruction. Whether you're new to OverDrive or looking to brush up on the basics, Getting Started with Sora and Getting Started with OverDrive Marketplace will help you see how easy it is to cultivate a digital collection, providing valuable tips and tricks for getting started.
Please note: When you register for each webinar, please choose only one session to attend.
REGISTER HERE "FOR GETTING STARTED WITH SORA"
REGISTER HERE FOR "GETTING STARTED WITH OVERDRIVE MARKETPLACE"
Sora Saves Series: Save time, money & energy with Sora NOW
Join our marketing, training and product support experts for the Sora Saves series, where we'll discuss, together, all the ways Sora saves your school time, money and energy.
Looking Back, Staying Strong: The books and products that kept us going in 2020
Join Team OverDrive at 2:00 p.m. Dec. 9 to hear about our favorite books and product updates from 2020 that made life a little easier. Our staff librarians will share standout titles in early reader/juvenile, young adult, fantasy, mystery and romance. Plus, our team will reflect on some of the best product releases from OverDrive and Help resources that supported your staff and patrons throughout the year.
This webinar will benefit school staff who are responsible for the success of their digital collection and/or who recommend digital reading to students.
---
2. Know your purchasing options
From One Copy/One User to Metered Access and more, learn how educators can effectively leverage OverDrive's flexible purchasing options (also referred to as lending models). Find out how to maximize your budget and get the most out of your digital collection with this this day-in-the-life primer, plus an overview of how class sets can help you save.
READ MORE ABOUT FLEXIBLE PURCHASING OPTIONS
DISCOVER THE COST SAVING BENEFITS OF CLASS SETS
---
3. Check out our End of Year Sale
It's OverDrive's biggest sale of the year! From now until Dec. 31, educators can save 25-50% off over 130,000 titles, including popular bestsellers, diverse reads, ebooks under $10 and more. This is the perfect time to stock up your Sora library with fresh, fun reads for the new year.
You can also shop the End of Year Sale by browsing our collections, which are all assembled by OverDrive's expert team of librarians. Discover some of the most popular collections below:

---
4. Explore the redesigned K-12 Resource Center
Our K-12 Resource Center has a whole new look – check it out! Inside, you'll find the same exciting marketing, outreach and training resources as always, but with a refreshed layout, reorganized based on user feedback to help you get started, get promoting and get learning.
EXPLORE THE K-12 RESOURCE CENTER

---
5. Subscribe to the OverDrive blog
If you haven't already, keep up to date with all the latest and greatest from OverDrive by subscribing to our blog! Get product updates and explainers, new content announcements and more delivered straight to your inbox, so that you're always in the loop.

Tags In
Browse blog and media articles