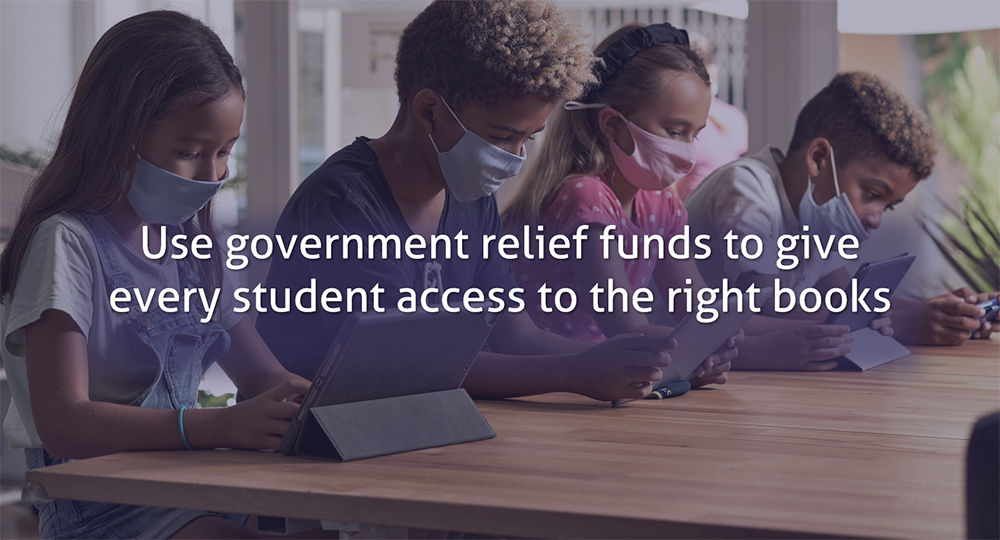 Use government relief funds to give every student access to the right books
Now is the time for your district to allocate government relief funds! The first round of ESSER funding must be allocated by Sept. 30, 2022. Keep reading to learn why digital books are a great way to use this money.
---
New government relief funding is giving K-12 schools a once-in-a-generation opportunity to eliminate barriers to reading with the Sora student reading app. The Education Stabilization Fund (ESF) comprises $190 billion allocated to schools since 2020 to help meet the challenges of today's COVID-19 pandemic and create tomorrow's bright future.
You may have also heard ESF referred to as:
CARES Act (Coronavirus Aid, Relief, and Economic Security Act)
CRRSAA (Coronavirus Response and Relief Supplemental Appropriations Act)
ARP or ARPA (American Rescue Plan Act)
ESSER (Elementary and Secondary School Emergency Relief)
These relief funds are currently being distributed to schools across the U.S., meaning that now is the perfect time to ensure that your students have access to the right books — not just for today, but for years to come.
An equal opportunity to succeed with literacy
Because Sora is an allowable use for ESF money, this new funding represents a chance for schools to champion literacy in their districts like never before. So, with educators' needs in mind, the Sora team has curated a variety of free resources to help you learn how ESF can be used to expand access to books through Sora. Interested? Find out more here.
Our free ESF resources include:
Diversity for Literacy Collection: OverDrive's Diversity for Literacy collection can help you evaluate your digital library to make sure it's meeting the needs of all your students. The collection features texts about different cultures, including books about the Latinx, Indigenous, Asian American Pacific Islander, African American and LGBTQ populations, plus titles featuring characters with mental and physical differences. Use ESF for a Diverse Collection
K-12 Funding Champion Toolkit: What is ESF? How much should you ask for? What is the case you need to make to your school's leadership? For answers to these questions and more, download our toolkit, which includes proposal templates and success stories to help you increase access to reading in your district. Download ESF templates & tools
Case Study: See how ESF funds are being used in practice. For example, the Massachusetts Board of Library Commissioners (MBLC) and the Massachusetts Library System (MLS) are teaming up to increase statewide access to digital books through Sora. See how they're using government funding to make it happen. Discover more about MBLC and MLS
Eliminate barriers to reading and get started with ESF in your school here.
Tags In
Browse blog and media articles