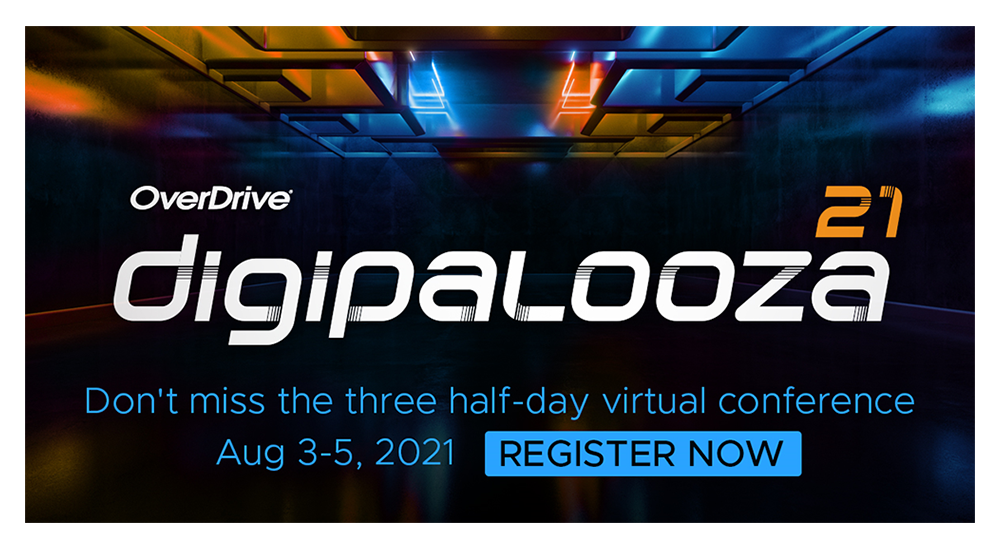 Digipalooza '21 is almost here. Have you registered yet?
By: Jill Grunenwald, Marketing & Communications Specialist
It's almost time for Digipalooza '21 and we can't wait to gather virtually with all of our library partners for a unique blend of education, networking, and fun. Registration is only $39 for our 3 half-day virtual conference, making it a cost-effective professional development option. We anticipate Digipalooza sessions will translate 1:1 into professional development hours (e.g., 30 minute session equals 30 minutes of PD time). Because professional development and continuing education credits vary by state, country, or even library or school, please consult those at your organization responsible for crediting PD hours.
Digipalooza '21 was designed with everyone in mind and have tracks specifically developed for our school and OverDrive Professional partners. We hope you'll register and join us!
This year, we have some incredible speakers lined up including Dr. Carla Hayden as our first keynote and our very own Professional Book Nerds will be chatting with bestselling author Andy Weir during a live interview event! See a list of all the amazing speakers here.
Get a sneak peek at some of the sessions below, then head on over to the Digipalooza program page to check out the full lineup:
Equity, Representation and Your Digital Library
Diversity issues impact all communities. Libraries have been at the forefront at this critical time in our history, leading the way by tackling misconceptions with programs and materials. Join library leaders who have successfully planned and organized collections that serve all members of the community.
Trends and Insights from the Surge in Library Digital Circulation
What began in March of last year has continued, with some expected seasonality, causing several new trends and opportunities as Public Libraries study patron demand and usage. Record transactions are providing larger data sets for analytics to reveal how libraries and catalogs are serving their communities. This session will share valuable insights to help guide your collection development and tech service planning.
Beyond Ebooks: How New Types of Digital Content Drive Community Engagement
While ebooks and digital audiobooks have proven their popularity over the years, make room for new types and sources of digital content. Learn about exciting developments with streaming video, learning services and databases, and hear success stories of libraries that are finding new patrons and engaging more with existing ones.
Register today and don't miss your opportunity to join Team OverDrive for three half virtual days full of educational panels, networking opportunities, and informative sessions to help you become a digital expert at your library.
To ensure you don't miss out on key Digipalooza updates, make sure your email preferences are up to date and you are subscribed to our Events subscription list. Visit https://digipalooza.com/ to discover more reasons to register for Digipalooza '21.
Tags In
Browse blog and media articles