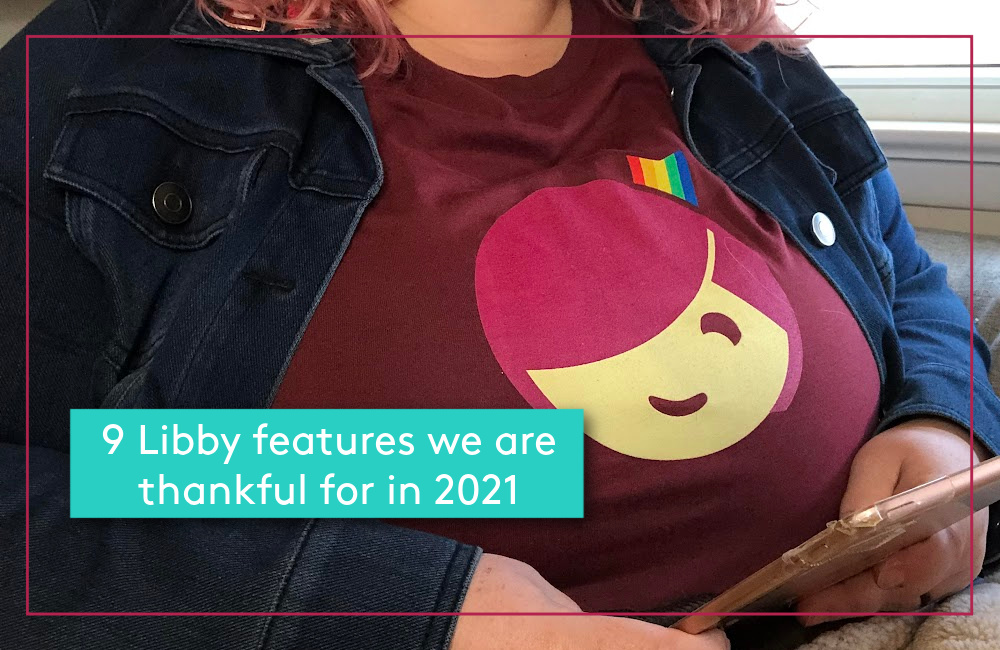 9 Libby features we are thankful for in 2021
By: Jill Grunenwald, Marketing & Communications Specialist
It's Thanksgiving week here in the United States, a time to sit and give thanks (while also enjoying some pumpkin pie). The past two years have challenged all of us in different ways, and for some this is the first time we will be spending the holiday with our family since 2019.
As a bookworm, one of the things I'm always thankful for is all of the amazing titles that come out every year. There are so many wonderful books, and not nearly enough time to read them all. Luckily, the Libby app makes it easy to get through as many of them as I can. Stay up way past my bedtime finishing a book that ends on a cliffhanger? I can just hop on Libby and check out the sequel. Long car ride over the hills to grandmother's house we go? Stream an audiobook through Libby and Apple CarPlay.
Last year, we asked readers to share why they were thankful for their local library during the COVID-19 pandemic. Time and time again, readers shared their love for Libby and how they were able to still get books even when physical libraries were closed. This year, we wanted to share some of the incredible features available in Libby that have enhanced the reading experience for users all over the world. Not all of these features were released in 2021, but over the course of this past year they have been paramount in supporting our library partners in their efforts to get more books into the hands of more readers.
Libby features we are thankful for in 2021
Libby Extras: Databases & Streaming Media services
Back in April we announced a new category of content for your library's digital collection: Databases & Streaming Media services! These services include a wide variety of compelling content providers that offer new opportunities to engage your community with entertainment, education and unique digital experiences. Patrons can learn a new instrument, watch live concerts, make homemade gifts for friends and family, watch award-winning films, master new skills and more. Best part is, users can discover and access these databases and streaming media services through the Libby app, alongside the ebooks, audiobooks and magazines you already offer.
Save big on Databases & Streaming Media services: Our Databases are 15% off through Dec. 31, and Streaming Video services activated by Dec. 15 and running through Feb. 28 will enjoy their 3rd month of live Cost Per Circulatation subscriptions for free (up to $150 credit). Vist Marketplace to add these services and reach out to your OverDrive Account Manager with any questions.
Enhanced library branding
We want users to know when they are in Libby that they are visiting your particular library's collection, which is why we've worked to enhance your library branding throughout the app. This includes the active icon displaying in your library colors. We've also given library partners more control over what collections appear on the Libby homepage.
Updated library home organization
New filters at the top of your library's homepage in Libby allow users to see what's new, what's available now, specific subjects or a randomized view of the whole collection. This is a great starting point for readers to find a new book to read if they don't have something specific in mind.
Instant Digital Card
When physical libraries closed in 2020 in response to the COVID-19 pandemic, OverDrive's Instant Digital Card (IDC) became a way for hundreds of thousands of readers to gain free, secure access to their library's digital collection. More than 600,000 new library patrons started using the Instant Digital Card service in 2020 across the United States. Even now, with many libraries resuming normal operation, IDC continues to be a vital asset in keeping libraries connected to readers.
Please contact your Account Manager for information on how you can add IDC to your library's OverDrive service.
Libby now available in 10 languages
Bonjour! Hola! Nǐ hǎo! Willkommen! Privyet! To help further serve the needs of your diverse reading community, Libby's user interface now supports 10 languages. All of the helpful information in the app can be updated to the patron's native language to simplify their experience. Languages Libby now supports: English, Spanish, French (Canada), Simplified Chinese, Traditional Chinese, German, Italian, Japanese, Russian, and Swedish
Deliver later
I don't know about you, but it has been challenging to read this year. There are so many books I want to read, so I put them on hold. But then when they come in I don't have the motivation or attention span. That's one reason I'm so thankful for Libby's Deliver Later feature. If a user isn't ready for a hold when it becomes available they can choose to have the title delivered later – the title will go to the next person but the first user doesn't lose their place in line! Wait lists move more efficiently, helping you maximize your budget.
Search enhancements
We've added more filter options for users, making it easier for readers to browse and find the titles they are looking for, which helps our library partners circulate materials. Users with multiple library cards can also easily toggle between them to see if a book in their search results is available at other libraries.
Notify Me
Libby notifications were introduced at the end of 2019 and are one of my personal favorite features. It's like my birthday every time I get a push notification on my phone that a hold is in. With Notify Me, users can set up a smart tag and receive a push or email notification when a new issue of a magazine is available!
Haven't added OverDrive Magazines to your digital collection yet? Here are 10 reasons you should!
Wish List Sync
Based on popular request, Libby now supports wish list syncing with the OverDrive app and your library's OverDrive website. Users with OverDrive wish lists will be prompted in Libby to sync their wish list titles into a single tag. The ability to bring OverDrive wish list into Libby has long been requested, so we're excited to be able to offer this feature to our users.
Still need to do some holiday shopping? Visit the OverDrive shop to buy some Libby merchandise for the readers in your life, including the Libby Pride Tee see in the image at the top of the post. All profits from the OverDrive shop are donated to the ALA Literacy Clearinghouse, an initiative of ALA's Office of Diversity, Literacy and Outreach Services. 
Tags In
Browse blog and media articles