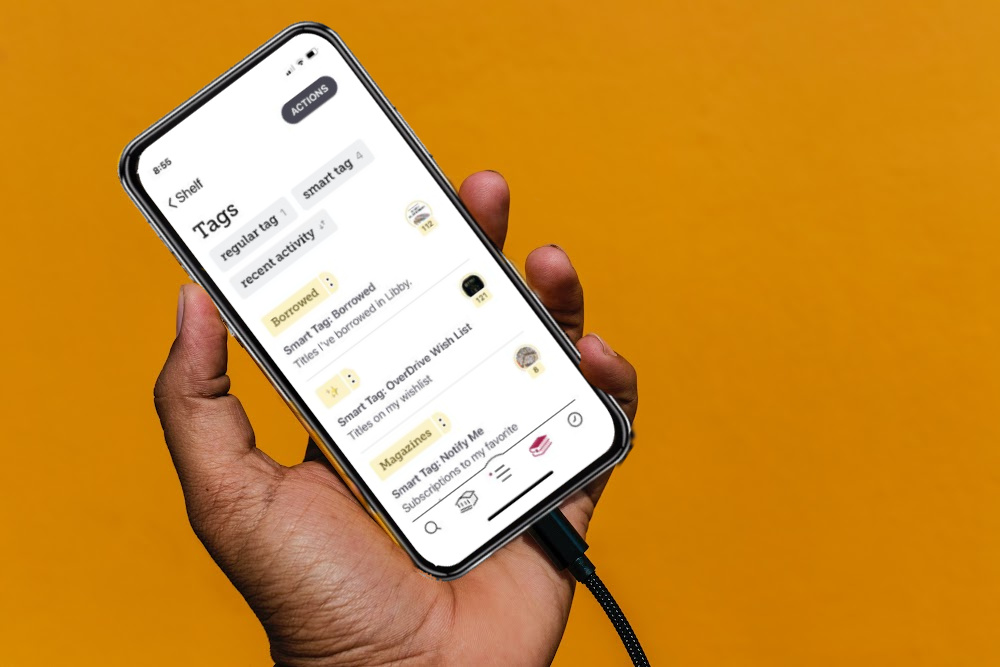 Tag your heart out with Libby
Libby Tags have gotten an upgrade! Your readers can use tags in Libby to organize books however they'd like, from making lists of books to share with friends or tracking books they want to read to subscribing to favorite magazines. 
Tags now have a dedicated screen on the Shelf, making it easier to see and manage tags. Users can filter their Tags Shelf to show regular tags (like book club picks) or smart tags (i.e., tags with extra logic, like the ability to sync wish lists from the OverDrive app to Libby). From this screen, users will see more details about their tags, including the tag description, how many titles are in the tag, and more. Based on popular request, users can now easily filter their tags by availability, too!
Manage To Be Read (TBR) pile
Let's be honest: there are just too many books and not enough time. And while the Deliver Later option is one of my absolute favorite features, I'm a big mood reader and don't always like putting books on hold unless I know I'm going to want to read it as soon as it comes in. This is why one of the first tags I set up in Libby was a TBR tag to keep track of all those books I know I'll want to read eventually. Best part is, when the mood strikes me, I can just open Libby and filter my TBR list  to see what's available. You could even set up separate tags for different moods or genres if you want to be more specific.  
In Libby, you can change a regular tag into a smart tag. A smart tag can automatically keep track of certain titles for you. For example, if you have a tag in Libby for titles you want to read, you can add "OverDrive Wish List" smarts to it. When you do, the smart tag will contain both your OverDrive wish list items plus the titles from your "want to read" or TBR tag. 
"Subscribe" to favorite magazines
Gone are the days of needing to log into Libby every month to see if the latest issues of my favorite magazines are out. Now, users can set up a smart tag in Libby to be notified when new issues of a magazine are available at your library. (Haven't added magazines to your digital collection yet? Here are 10 reasons why you should.) 
Keep track of book recommendations 
Is there a book you think a friend would love? Or have you had a family member recommend a title to you that you want to remember? You can create Libby tags to keep track of book recommendations, both for yourself and other people. Then when your friend comes to you asking if you've read anything good recently you can just open Libby, select that tag, and offer them a whole list of titles to choose from. You can even export the tag to easily share the list of titles with your friend. 
If you're in a book club or manage one at your library, tags are a great way to keep track of books you think folks in your group might enjoy. 
Remember Did Not Finish (DNF) books
Not every book is for every reader and that's okay! Now you can use tags to identify books you didn't finish. That way you won't run into that #readerproblem of checking out a book that sounds really good and maybe even vaguely familiar, only to realize about 10 pages in that you absolutely did try reading this before and decided it wasn't for you. 
Sometimes, I'll DNF a book only to come back to it years later and really enjoy it (looking at you The Name of the Wind). With tags, I can mark books I didn't finish but think I might be in the mood for down the road.  
Organize audiobooks by length
I'm a big audiobook listener, especially after upgrading to a car that has Apple CarPlay. But while really long audiobooks are perfect for roadtrips, sometimes I want an audiobook I can finish in a few hours while doing chores. Since Libby shows users the duration of audiobooks, I can set up tags based on short or long audiobooks. And because the tags are completely customizable, the definition of short and long audiobook can be whatever you want it to be!  
Use emojis 
One of my favorite things about tags in Libby is that we can use emojis! From the ghost and jack o'lantern for those books I want to read during spooky season to the crying emoji for tearjerkers and even the rainbow icon for books by queer authors, the possibilities are endless. (They also save on space. My favorite genre of books, which I call Murder at an educational institution that involves a close-knit group of suspicious characters, can be shortened to, say, a school and knife emoji and maybe a leaf because I tend to read these during fall.)  
Tags In
Browse blog and media articles