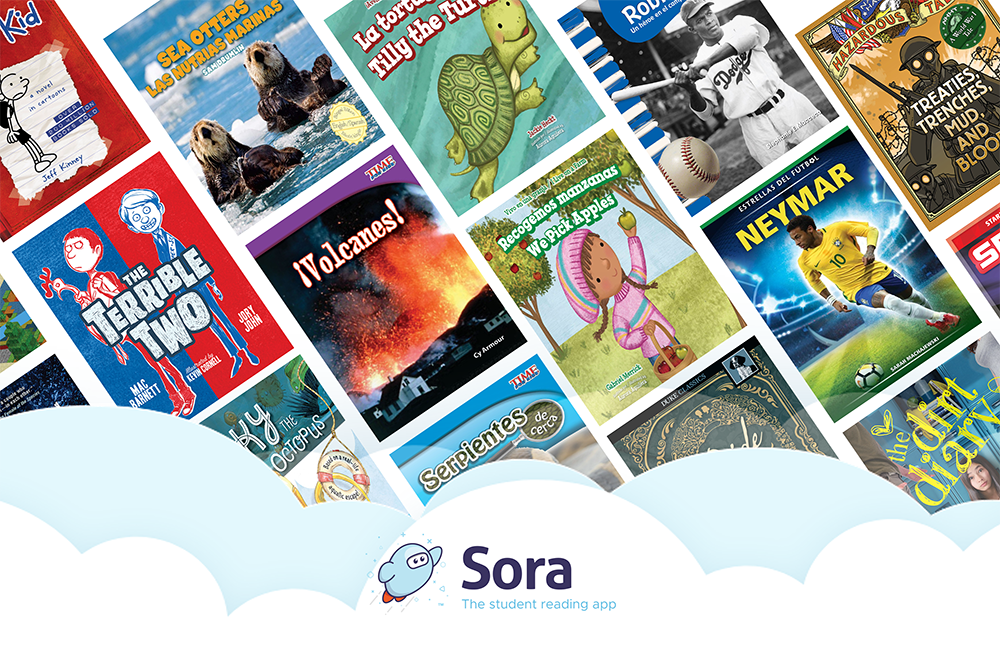 3 ways to enjoy no-cost books in Sora this summer (and beyond!)
Summer is almost here, and your students – and you, let's be honest! – are probably more than ready for it to arrive after a year (or two…) of ups and downs.
With all of the distractions that warm weather and extra free time provide, it can be tough to keep reading at the forefront of your students' minds. But never fear – with the Sora reading app, you have options aplenty to help keep your learners engaged.
Sora isn't just a gateway to your school's own customized digital collection. It also comes with no-cost books that ensure your students always have digital reading options at their fingertips. Plus, because all of these titles are simultaneous use, your readers can all borrow them at the same time – so you never need to worry about holds or waitlists.
Keep reading to learn more about the free digital books your students can access with Sora this summer.
(Not sure if you have Sora? Search for your school here. If your school isn't listed, you can also activate today!)
---
1. Sora Starter Collection
Every school with Sora has access to the Sora Starter Collection, a collection of 250+ ebooks, audiobooks and Read-Alongs. These include popular titles, curriculum classics and nonfiction books from publishers like Sourcebooks, Jump!, Bellwether, Triangle, Lerner, Kaleidoscope, Rosen, Abrams and Duke Classics.
In addition to the main Sora Starter Collection, schools can access our Everyone Reads collections, which include Spanish titles for your younger readers and more.
To discover all of the titles available in our no-cost collections, take a look at the What's Available in Sora Starter Today page.*
*Please note: Title availability may vary by region.

Interested in these Sora Starter titles? Find your school in Sora or fill out our activation form today to get started.
---
2. Sora Sweet Reads
Sora Sweet Reads is an annual summer reading program that is automatically available to schools with Sora. The program is designed to encourage students to keep reading all year long, even while school is out.
This year's edition of Sora Sweet Reads launches May 4 and runs through Aug. 17, offering 50 simultaneous use juvenile and young adult ebooks and audiobooks (44 for our global partners). And there are more than just traditional ebooks and audiobooks to read: the 2022 program includes Read-Alongs, comics and graphic novels, too!
To help you get the word out to your school community, we've put together free marketing materials and a Sora Sweet Reads Reading Challenge to keep your students coming back for seconds.
Visit the Sora Sweet Reads site to learn more.

Want to participate in Sora Sweet Reads? Find your school in Sora or fill out our activation form today to get started.
---
3. SYNC Audiobooks for Teens
SYNC Audiobooks for Teens, provided by AudioFile Magazine and powered by Sora, works a little differently from the other no-cost books we've covered here.
This is a free summer reading program targeted at teens aged 13 and older, providing participants with two thematically paired audiobooks for check out each week for 16 weeks. That equals out to 32 free books over the course of the program! This year, SYNC begins on Apr. 28.
With SYNC, anyone who registers can participate, even if your school doesn't use Sora. Simply sign up with a valid email address and follow these setup instructions to gain access to the titles once the program begins.
Interested? View the full list of titles available through SYNC here.
You can also register to attend AudioFile & OverDrive Present: SYNC Audiobooks for Teens – 2022, a free webinar that will walk you through the benefits of audiobooks and demonstrate how to access the titles with Sora.

---
Bonus books: Public Library CONNECT
Did you know that Sora also enables your students to connect in-app with their local public library at no cost to your school?
Students simply choose "Add library" from the app menu, then search for and select their library to begin browsing additional age-appropriate digital books. To borrow titles, students can use their school credentials (if both the school and public library have opted in) or an existing library card.
Learn more about Public Library CONNECT here, or visit this link for answers to frequently asked questions.
---
Visit TeachingBooks.net for supplemental learning resources

To access supplemental learning resources for many of the titles in these no-cost book collections, you can visit TeachingBooks.net, which offers over 270,000 digital enrichment resources for more than 78,000 children's and young adult books. These include:
TeachingBooks was founded in 2000 and joined the OverDrive family in October 2021. They are a leading creator and maintainer of supplemental materials that perpetuate informed, joyful reading across the curriculum, while also furthering successful literacy outcomes. In January, TeachingBooks was named a 2021 Common Sense Selection for Learning.
Tags In
Browse blog and media articles