Hot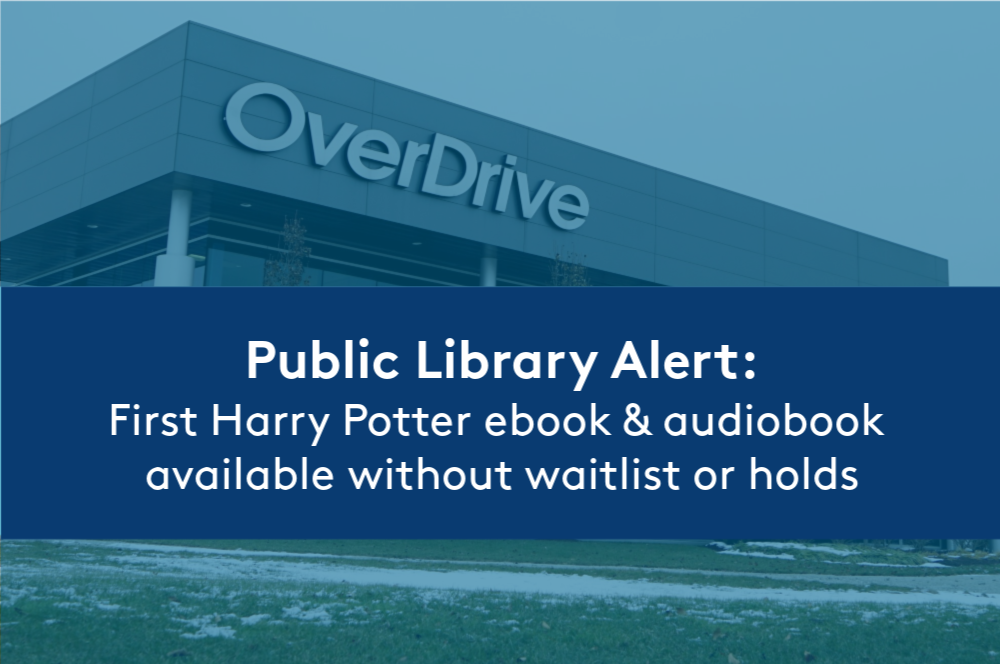 Public Library Alert: Harry Potter book 1 now available without waitlists or holds
Last updated 4/1/2020 @ 10:30 am ET
NEW: Enjoy #HarryPotteratHome with unlimited access to ebook and audiobooks
As mentioned on March 13, due to COVID-19 we have been assembling no cost and low-cost digital book collections. Our goal is to supply catalogs of high-quality titles for readers of all ages.  This is the first of a series of alerts that will be issued.  We will update here and at OverDrive Marketplace as additional publishers confirm permissions and pricing for low or no cost collections.
This page with updated and new offers will be refreshed frequently so please check back. More information is also available from our social media sites and pages. Please follow OverDrive on Twitter, Facebook, and LinkedIn to stay up-to-date.
To add any of these offers to your OverDrive collection, please visit Marketplace where we will also post all of the current content sales.
School partners can also visit this post for additional resources for your students.
Latest updates:
Enjoy #HarryPotteratHome with unlimited access to ebook and audiobooks
Previously announced:
HarperCollins adds 800 frontlist and 300 backlist titles to their CPC catalog. Hundreds of additional backlist titles will be added every week.
Updated marketing materials reflecting new Big Library Read start date are now available (See previous post regarding BLR update)
Content purchased prior to March 1, 2020 from the following publishers is now available to readers for unlimited concurrent circulation (simultaneous use) from now until April 30, 2020. Unless otherwise noted, includes the publishers' full catalogs. Libraries must have purchased content prior to March 1, 2020 to benefit from the expanded usage.
ABC-CLIO
Britannica Digital Learning
China Publishing Group
Guilford Publications
Huawen Tianxia
Lingzi
Jacana Media
Juvenile & Children's Publishing House
Oxford University Press
People's Medical Publishing House
Princeton University Press
Rowman & Littlefield
Sourcebooks (select titles only)
Springer Nature
Taylor & Francis
Tianjin Booky
TrueLake
Zengogo
ZG Audio
Big Library Read update: BLR will now start Monday, March 23. [Updated marketing materials now available]
Penguin Random House and Macmillan US have changed their digital content policies for public libraries and schools
Duke Classics available at no cost: Simultaneous use plan
This collection includes 4,171 ebook titles for many classics for all ages.  There is also a package of 12 audiobooks.  

Reduced Cost-Per-Circ pricing:
This initial collection is over 80,000 titles, collections are 25-30% off with over 13,000 titles under $1. We will be continuing to add to this collection as publishers are continuing to respond to our outreach and offer titles at reduced costs.
The following publishing partners currently have reduced their cost-per-circ for the majority or all of their catalogs:
Blackstone
Britannica Digital Learning
Capstone Publishers
Cavendish Square
Cherry Lake
Cricket Media
Dreamscape Media
Highlights for Children
Highbridge Audio
Ideal Audiobooks
Insatiable Press
IZNEO
L.A. Theatre Works
Lerner Publishing Group
Marvel Entertainment
Rosen Publishing
Sourcebooks
W.W. Norton
We are also reminding our partners of some proven best practices to maximize circs and trying to keep up with patron demand during this time:
Curate Simultaneous Use and Cost-Per-Circ content
Create a Lucky Day collection
Shop our Marketplace sales
Create an Always Available collection or room
No school? Encourage parents and kids to check out Read-Alongs
Raise your checkout and/or hold limit
Raise the default lending period if lower than 21 days
Suspend card blocks
Use social media to let your community know about Instant Digital Card
Don't have IDC? Talk to your Account Manager to add it
As OverDrive continues to monitor updates regarding the Coronavirus, we are committed to serving your staff and communities with 24/7/365 access to ebooks and audiobooks. We are prepared with our team, technology, and services to avoid potential disruptions. Please always direct any specific questions or opportunities to serve your library by contacting your OverDrive Account Manager.
Tags In
Browse blog and media articles
Public Library Training
K-12 Library Training