4 lessons we learned at Digipalooza '23
Last week, Team OverDrive and librarians from all over the world came together in Cleveland, Ohio for Digipalooza '23. One of my favorite things about our conference is hearing directly from library partners about all the tremendous things they are doing on a daily basis to reach readers and make their communities better.  
With a full program of sessions, there were so many lessons learned during the conference. Here are four themes that were frequently mentioned during Digipalooza '23:  
Digipalooza '23 Key Takeaways 
1. Flexible access models make readers and librarians happy
Digipalooza '23 Conference Programming kicked off Thursday morning with Take Your Collection to the MAX, a session all about leveraging OverDrive's growing catalog of On-Demand titles to achieve low-cost impact including OverDrive Max (Metered Access Concurrent Use) and Cost-Per-Circ (CPC). 
According to Elizabeth Thomsen from NOBLE Consortium (MA), deciding which access model to buy a title in is similar to choosing between buying a title in hardcover versus paperback when available in both. The key difference, Thomsen said, is that "OverDrive provides so much more information." The insights and data provided in OverDrive Marketplace, including the number of times a title has been checked out and even what branch those checkouts came from, helps collection development librarians make better informed purchasing decisions. 
Because many titles are available in more than one access model, libraries can mix-and-match available access models to find the solution that works best for their collection, budget, and community to get more books into the hands of readers which gives users a positive association with their local library.
As demand for digital content continues, so may hold wait times. Our panelists found that using on-demand models not only filled holds quickly but made better economic sense. As Diane Platt from Kansas City Public Library (MO) noted in that same session, when a title is available in CPC it made more sense to spend $100 for 100 checkouts than buying individual copies to fill all those holds. And, as we learned in the session Actionable Data & Insights: Deep Dive Into Key Reports, the earlier a librarian is able to fill a hold the more likely it will be checked out. 
Using multiple access models is also better for the lending efficiency of your digital library: our data shows libraries that utilized multiple OverDrive Marketplace content access models, including using CPC and OverDrive Max, reduced their average cost per checkout compared to libraries that did not use multiple content access models.
2. Expanding the formats you offer also expands the users you reach
OverDrive's content options extend beyond different access models for ebooks and audiobooks and adding these new formats is a great way to expand the discovery of your digital library. 
In the session KAPOW! Harness the Power of Comics, Graphic Novels and Manga to Supercharge Your Library Catalog, panelists Valentino Zullo (Ursuline College), Frederick L. Jones (Saturday AM), and Eden Julia Sugay (VIZ Media) shared how adding sequential art stories like comics, graphic novels, and manga to your digital library is a great way to reach new users. This is especially true for underrepresented audiences, who often see themselves in the pages of manga or comics in ways they don't find in traditional books.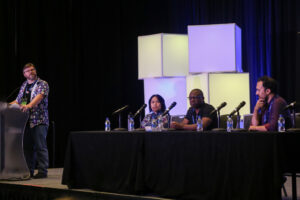 OverDrive Magazines are also continuing to grow in popularity and bring more users to digital collections. In the session How Fast-Growing Libraries Reach More Readers, Joy Testa Cinquino of Buffalo & Erie County Public Library (NY) spoke about how training her staff and promoting the addition of magazines in advance was a big help in having a successful launch. And, thanks to upcoming features that were previewed at Digipalooza '23, soon it's going to be easier than ever for users to enjoy OverDrive Magazines from your digital library. Stay tuned for more information!  
On the last day of Digipalooza '23, Jason Tyrrell of Kanopy led the panel discussion Maximize Patron Engagement with Video: Streaming Video has Become a Must-Have Component of the Library. Demand for streaming media is up, and as a result many libraries are shifting away from DVDs. Janet Cox from Plano Public Library (TX) said her community loves watching the Great Courses on Kanopy so much, the library no longer needs to purchase physical copies! 
As people continue to cut the cord to cable and limit the number of paid services they subscribe to, Kanopy can fill that gap and, in some cases, provide even more content. According to Alison Kuchta from Kent District Library (MI), some members of her community have said they wouldn't be able to have any streaming service if the library didn't provide Kanopy.  
Interested in adding Kanopy? Get started here. 
3. Think outside the box for outreach services aimed at underserved audiences
On Friday of Digipalooza week, I was having breakfast with some of my OverDrive co-workers (shout out to the chef at the Huntington Convention Center of Cleveland!), and we were talking about the awesome custom handout for seniors shared by Hope Harms from Johnson County Library (KS) in the session How Fast-Growing Libraries Reach More Readers. Complete with granular step-by-step instructions and an icon key in big, clear font, the handout — available to view here— is used by frontline staff ambassadors during Senior Outreach visits to introduce a new segment of the community to Libby. 
Unique outreach opportunities were a major talking point across multiple sessions at Digipalooza '23. Like Johnson County Library's handouts, which were carefully designed with the specific audience in mind, other libraries discussed how they identify underserved pockets of their community and create personalized tools to introduce library services.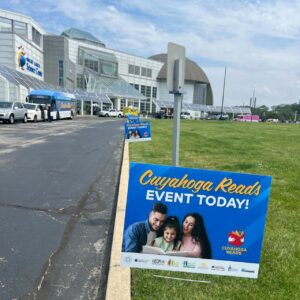 For instance, in the session Access for All: Digital Reading Campaigns Designed to Reach Underserved Audiences, Jennifer Lawson from San Diego County Library (CA) shared how OverDrive helped her expand access through Instant Digital Cards by finding a way to verify members of her community who may not have a permanent address in the service area, including members of the military and college students.  
 In that same session, Kelvin Watson of Las Vegas-Clark County Library District (NV) discussed his library's Cell Phone Program, which puts smartphones into the hands of people who are unhoused. Not only do these phones provide people with a connection to their family and friends, the phones come with phone numbers for social service programs already added. 
Kelvin also spearheaded the award-winning Bringing the Library to Transit Riders Program. Kacie Armstrong of Euclid Public Library (OH) alongside several other Northeast Ohio public libraries, said she took inspiration from Kelvin's program to outfit local buses with library signage as part of the new Cuyahoga Reads initiative which aims to address learning loss due to the COVID-19 pandemic.  
4. Librarians are facing challenges all across the country, but you are not facing them alone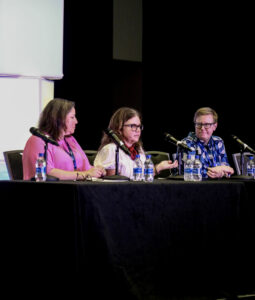 In the Thursday afternoon session #UniteAgainstBookBans: Advocate for Your Community's Right to Read, panelists Sara Gold (Wisconsin Public Library Consortium & Wisconsin Schools Digital Library Consortium), Lisa Varga (Virginia Library Association) and Current ALA President Emily Drabinski discussed their personal experiences with book challenges happening across the industry. All of them noted the importance of finding community among peers and professional organizations as the field navigates these difficult waters. As Emily Drabinski said, "In large numbers, librarians are able to move the needle in ways they cannot do when by themselves." 
During his Crystal Ball report, OverDrive founder and CEO Steve Potash reiterated that OverDrive stands with librarians. We are working with industry professionals to identify the right path forward to address content limitations being placed on librarians while also promoting our mission of Access for All.  
Want to know more about what we learned at Digipalooza '23?
We have full recaps of every day of the conference right here on the OverDrive blog!  
Read Day 1 recap here. 
Read Day 2 recap here. 
Read Day 3 recap here. 
Browse blog and media articles