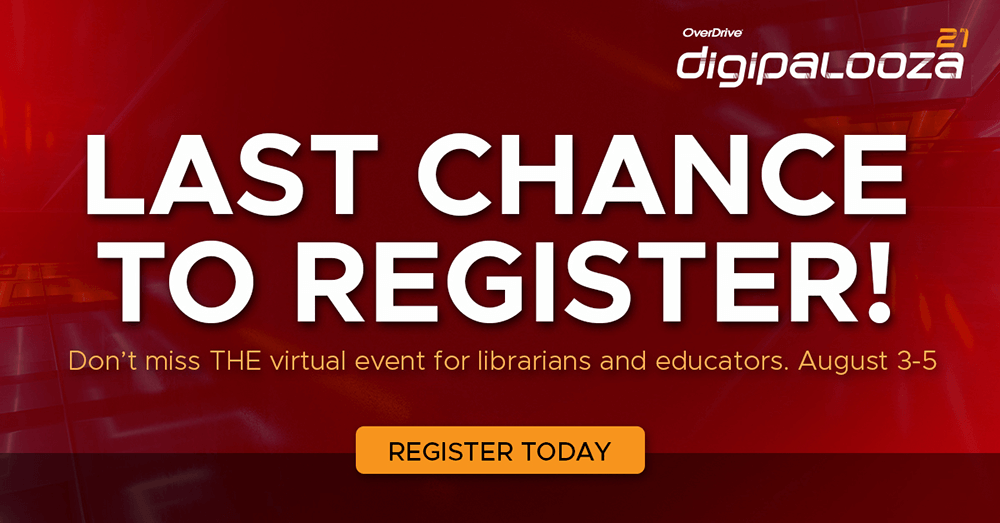 5 more reasons to register for Digipalooza '21
Digipalooza '21 is less than two weeks away and we don't want our library partners to miss out on this professional development opportunity. This year, Digipalooza '21 is a three half-day virtual conference, but like all of our past Digipalooza events, is a unique blend of education, networking, and fun.
Not sure if Digipalooza '21 is right for you? Here are 5 more reasons to attend.
Out of this world speakers
As if an exclusive Professional Book Nerds interview with bestselling author Andy Weir wasn't enough, Digipalooza '21 will feature an opening keynote Dr. Carla Hayden, a closing session from Professor Anita Hill, and a special keynote from Sourcebooks founder, publisher and CEO Dominique Raccah.
It's only $39 for all three half-days
That's right: attendees get access to all of the keynote speakers in addition to the incredible program we've put together for only $39! Visit the Digipalooza '21 website to see the full program and speakers.
Affordable professional development
We anticipate Digipalooza sessions will translate 1:1 into professional development hours (e.g., 30 minute session equals 30 minutes of PD time). Note: Because professional development and continuing education credits vary by state, country, or even library or school, please consult those at your organization responsible for crediting PD hours.
We designed Digipalooza '21 with everyone in mind
Along with providing sessions for public librarians and K-12 educators, we also have tracks available for corporate and academic librarians. For our international partners who will be unable to attend in real-time, on-demand recordings will be available for 60 days following the event so that you can watch based on what's best for your schedule and you won't miss a thing.
It's fun!
We may not be able to bring you to our hometown of Cleveland this year, but Digipalooza '21 will still be a great way to network and have some fun. Register today to connect with your peers from across the industry, attend informative and inspiring sessions, have fun, and learn from experts.
Don't miss out on your opportunity to become a digital expert at your library. Register for Digipalooza '21 today!
Tags In
Browse blog and media articles